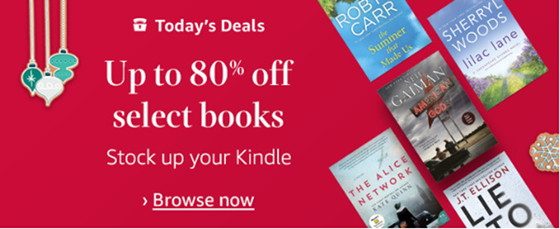 Most ebook stores are having a sale on ebooks for Christmas day, making it a good time to stock up on some good books for the cold winter months ahead.
Amazon has a list of ebooks on sale for one of their main deals of the day, and they usually continue with more deals like these after Christmas, and they're expected to have a big sale on December 29th for their Digital Deals day.
Kobo has some books on sale as well, and so does Barnes and Noble.
Even Google has some ongoing book deals, and they're giving away a $5 credit to apply toward any book over $5, although the credit is probably only for some accounts.
Smashwords, the largest indie publisher, is also having a year-end sale on ebooks, with deals from 25%-100% off.
Here's the list of ebook deals:
Up to 80% off Kindle Books Deals – 12/25 only
Up to 70% off Popular Kindle Books – Ends December 31st
Up to 77% off "Star Wars" graphic novels at Amazon – Ends January 1st
Digital magazines up to 75% off at Amazon
Up to 80% off Romance eBooks at Kobo – Ends December 31st
Kobo Holiday Sale – Ends January 2nd
50% off Bestsellers Sale at B&N
DC Comics & Graphic Novels: Up to 87% Off at B&N
Google Books Deals & $5 Credit