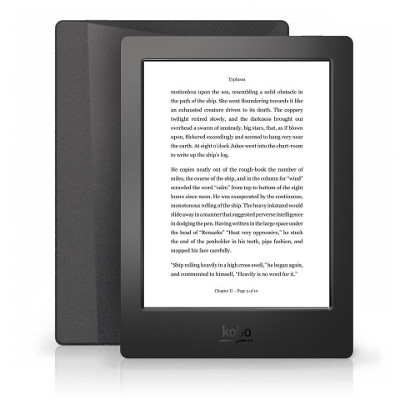 Once again Kobo has a deal where you can get a free sleepcover with the purchase of the 6.8-inch Kobo Aura H2O.
It's the 1st gen model and it's selling for $159, and the cover usually sells for $40 so it's not a bad price for both.
Kobo released the 2nd generation Kobo Aura H2O in May 2017, so it's kind of surprising that they're still selling the 1st gen model too.
Oddly enough the second gen Kobo Aura H2O has been out of stock for at least the past month.
The original Kobo Aura H2O has a couple advantages over the newer model. It has a microSD card slot and the screen is a bit sharper with the infrared touchscreen. Personally I liked the feel of the 1st gen model better with the slight rubbery coating.
The newer model has adjustable frontlight color and it has twice as much internal storage space and the overall size is a bit smaller, but the software and screen are the same so if you want a slightly larger 6.8-inch ereader the 1st gen H2O is still worth considering.
The free sleepcover deal runs through January 31st on both the US and Canadian Kobo websites.