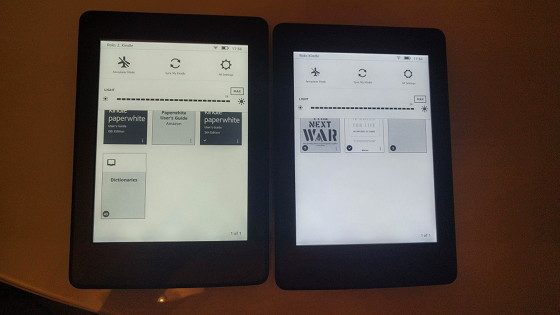 The current Kindle Paperwhite has been out for over 2.5 years now, and the Paperwhite line originally launched back in 2012 with the first frontlit Kindle.
After that long of making them you'd think they would all come out looking the same, but that's not the case at all.
It's amazing how much frontlights vary from one to the next, even among the same model.
The picture above illustrates just how different the frontlight color is on a couple of recently-purchased Kindle Paperwhites.
It's like one has a yellow frontlight and the other has a white frontlight.
Some people like lighter frontlights better and others like a softer yellow glow, especially when reading at night, but when it comes to Kindles it's just sort of the luck of the draw.
The mysterious variable frontlight phenomenon isn't unique to the Kindle Paperwhite. It affects all frontlit Kindles, and frontlit ereaders in general. I've seen Kobo frontlights look completely different from one to the next as well.
It's strange how there's not more uniformity when it comes to frontlights. The technology has been in use for nearly six years now but it's still far from perfect.
In the case of the Kindle sometimes you have to play the exchange game until you get one that you're happy with, and considering how different they can be that's something you might have to do if you're picky about the frontlight.
via: Amazon Forum