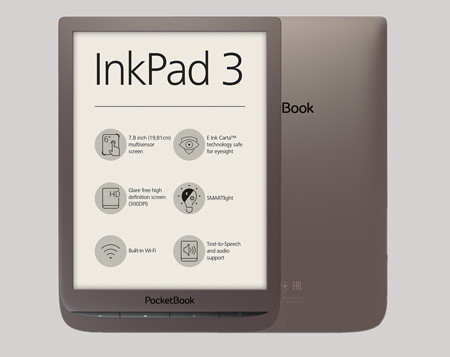 PocketBook is releasing a third-generation version of their Pocketbook InkPad ereader that looks quite nice.
The new InkPad 3, also known as the Pocketbook 740, features a 7.8-inch E Ink Carta screen with 300 ppi like the Kobo Aura One.
But unlike the Kobo it adds page buttons, a microSD card slot, and it supports MP3 files and has text-to-speech.
Additionally, the InkPad 3 features a dual-core processor with 1GB of RAM and it has a rotation sensor to automatically switch the orientation of the screen.
It also has what they're calling a SmartLight to adjust the color of the frontlight, and Pocketbook is taking things a step further by offering fully customizable templates to setup the light exactly how you want it depending on the time of day.
Another interesting detail is the overall weight, especially considering the larger screen. The Pocketbook InkPad 3 only weighs 210 grams. That's about the same weight as the 6-inch Kindle Paperwhite (the WiFi model is 205 grams and the 3G version is 217 grams).
Unfortunately Pocketbook's ereaders are only available in limited markets; they aren't sold from anywhere in North America. There used to be a couple sellers in the US but those options dried up years ago. Sometimes you can find them on eBay but they usually ship from overseas and it's hard to find the newer models. A few Pocketbooks are sold on Amazon but they're the older basic models. Hopefully the InkPad 3 eventually shows up for sale somewhere because I'd like to get one.