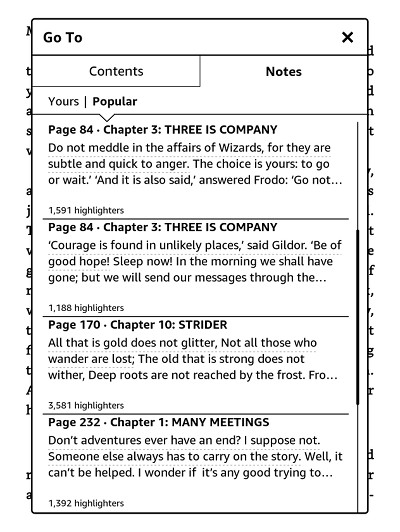 Have you ever noticed the Popular Highlights that are available on Kindle ebooks?
Kindles have a lot of features and some of them are easy to overlook. Popular Highlights is one feature that I've never paid much attention to. In fact I usually have them turned off so I don't get distracted by them while reading. But it's actually kind of a cool feature when you think about it.
As the name suggests, Popular Highlights show the most highlighted passages that readers have added to Kindle books.
It's a unique feature that's not available on other types of ebooks, just Kindle books.
Amazon also displays how many times each passage has been highlighted. It's kind of crazy when several thousand people highlight the same sentence.
Obviously the more popular a book is the more highlights it will have. A lot of books don't have any popular highlights. I think it takes at least three highlighters to make a highlighted section show up under popular.
There are two ways to view Popular Highlights in Kindle books. You come across them naturally while reading, and you can also view the full list of popular highlights from the Notes list.
On Kindles you select the Notes tab from the Go To page and select Popular. Or you can select Notes from the menu.
However, Popular Highlights only show up when you have the setting enabled.
On Kindles go to Settings > Reading Options > Highlights & About This Book > Popular Highlights.
Fire tablets and Kindle apps also have Popular Highlights that can be accessed from the notes section and turned on and off in settings.