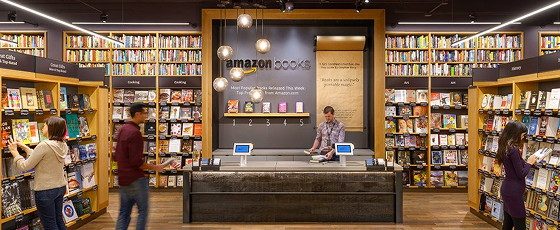 If you want to test drive a Kindle or other Amazon device in person before buying, like if you're trying to decide which Kindle model to choose, there are a growing number of Amazon pop-up stores and Amazon Books shops across the US.
They've got pop-up stores in shopping malls, at Whole Foods, and some Kohl's stores. Here's the current list of where to find Amazon Pop-up Stores by state, and here's the list of Amazon Books locations.
Both stock Kindles and other Amazon devices in stores, and they have employees on hand to answer questions.
You can also go there to get free customer assistance on Amazon devices that you already own if you're having a problem with something or want to know more about one of Amazon's services, like Kindle Unlimited.
Some of the retail stores offer Kindle trade-ins if you want to trade your old Kindle to get a discount on a newer model.
The locations that accept Kindle trade-ins have an asterisk next to their names on the pop-up stores list.
Best Buy and Staples are two major retailers that also carry Amazon's devices, but their staff's knowledge of the products and the selection can be hit or miss.