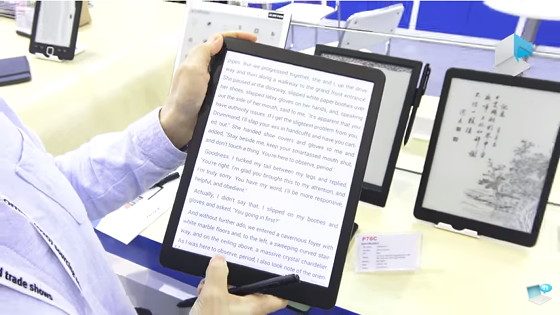 I came across a video on YouTube showing some new ereaders from a company called Jezetek.
I've never seen the brand being sold anywhere, not even on Chinese wholesale websites like Banggood, so they might only be sold in China and a few other countries but they're somewhat similar to the Boyue ereaders so maybe these new ones will show up for sale somewhere eventually, perhaps under a different name.
There's the 7.8-inch P78C with adjustable frontlight color and a capacitive touchscreen.
Apparently it's going to support stylus writing as well so that would make it different from the other 7.8-inch models.
There's also a 10.3-inch P10C model with 8GB of internal storage space and 1GB of RAM, same as the P78C. The cool thing about this model is it's the first 10.3-inch ereader shown with a frontlight, and the lighting actually looks nice and even on the large screen (shown in the picture above). None of the other current 10.3-inch models have that as an option so that would make it unique.
Jezetek has a new 13.3-inch model too, the P133A.
The software on the new Jezetek ereaders is based on Android 4.4.2, but it looks like it's still a major work in progress, especially when it comes to the hand writing features. The P78C and P10C both have iMX6 processors, but the P133A has the new iMX7 processor.
New Jezetek E Ink eReaders