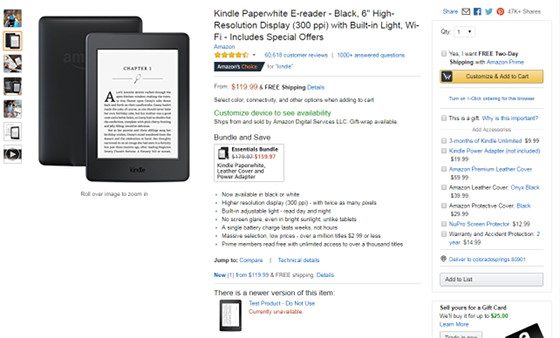 One day after Kobo announced the new Kobo Clara HD, Amazon is stirring up questions about a potential new Kindle Paperwhite.
Today on the product page for the Kindle Paperwhite 3 there's suddenly a notice about a newer version being available, but when you click on the link it leads to a dummy page labeled "Test Product – Do Not Use".
Update: Now they've taken the new version notice down but you can see it in the screenshot above.
Here's the link to the test page but it'll probably be taken down soon.
The test page doesn't give any details except a listing date of June 17, 2015, which just happens to be the exact date the Kindle Paperwhite 3 was first announced and put up for pre-order.
The page shows a few pictures that look like they were from a used listing for a 2014 basic Kindle.
None of it makes any sense whatsoever.
So what does it all mean? Is a new Kindle Paperwhite about to get announced? Or is it just an error of some kind?
Either way, Amazon has just put certified refurbished Kindle Paperwhites on sale for $79. That's $20 off the regular price. Both black and white versions are available.
Maybe they just meant to put up a link to the refurbished Paperwhites on sale and somebody screwed up. Or maybe a new Kindle is going to get announced soon. The mystery continues…