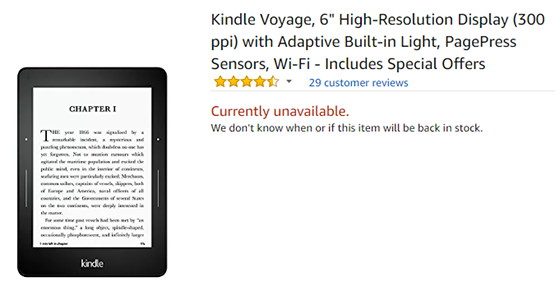 For awhile now there have been a number of signs to suggest that Amazon is planning on phasing out the Kindle Voyage soon.
Further evidence on the matter is the fact that the Kindle Voyage is now unavailable on several of Amazon's international websites.
All the European Amazon websites show the Kindle Voyage as currently unavailable, and they no longer advertise it on other Kindle pages, so it appears to be gone for good.
This includes the Amazon websites in the UK, Germany, Italy, France, and Spain.
Even on the main Amazon.com website the international version of the Kindle Voyage is listed as unavailable, even though they're still selling it in the US.
The Voyage is still for sale on a few of Amazon's websites, including Amazon Canada and Amazon India, but it seems like they're slowing starting to phase it out, at least in some countries.
The Kindle Voyage was released in 2014 so it's not surprising to see it go after four years, but it is somewhat surprising that they never released a second gen model. Maybe they will. Or maybe they'll just call the new model something else. Hopefully they'll sort of blend the Voyage and Paperwhite into a new model.