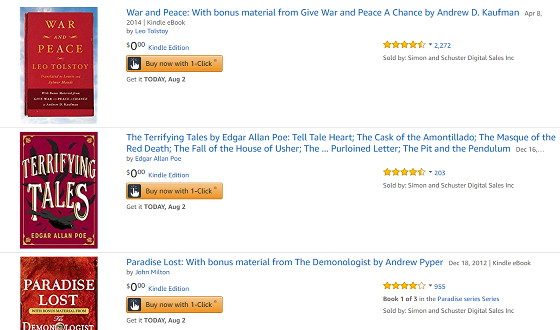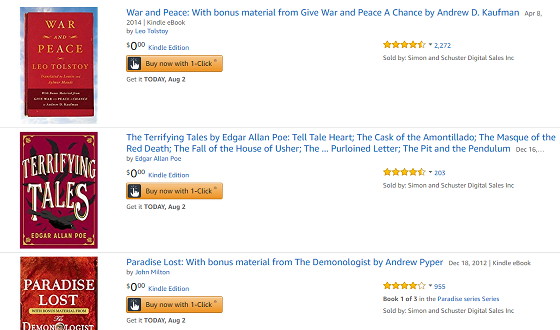 I saw this mentioned over at MobileRead and it's a good tip for folks that want to go free ebook hunting.
Right now (and who knows for how long) Simon & Schuster has over 400 ebooks available for free at Amazon, Kobo, and probably other ebook stores too.
The hard part is digging through the countless pages of search results to find what you like.
There's a lot of junk but there's some good stuff mixed in as well.
They have some dressed-up public domain classics for free, some children's and young adult books, cookbooks, there are quite a few nonfiction freebies for a change, and plenty more.
Here are a few links to some of the pages with the free ebooks:
Kindle
Simon & Schuster ebooks at Amazon
Nonfiction Simon & Schuster ebooks at Amazon
Gallery Books at Amazon
Pocket Books at Amazon
Kobo
Simon & Schuster ebooks at Kobo
Gallery Books at Kobo
Pocket Books at Kobo
More Links
See the thread at MobileRead for more links to free ebooks, especially post #11. Some folks have posted links to a number of Simon & Schuster imprints that are available for free that don't show up under the Simon & Schuster search results.