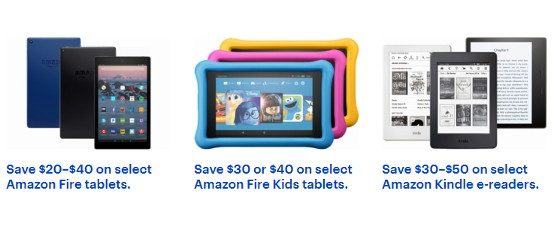 There's a big 2-day sale going on at Best Buy right now with some good deals on a bunch of Amazon's devices.
In fact the deals are pretty much the exact same sales that Amazon was offering during Prime Day, and these don't require having a Prime membership.
Here's the link to the promo page at Best Buy: Amazon 2 Day Sale.
You can get a Kindle for $49, a Kindle Paperwhite for $79, and the Kindle Oasis 2 is marked down to $199 for 8GB and $229 for 32GB.
Amazon didn't even have the Kindle Oasis on sale for Prime Day so it's surprising to see it being discounted too.
They've also got Fire tablets on sale. The Fire HD 10 is $99, the Fire HD 8 is $49, and the Fire 7 is $29.
Some of Amazon's Echo and Fire TV devices are on sale as well.
You almost never see Amazon's products on sale at Best Buy while being full price on Amazon's website. And it's kind of strange the prices are the same as they were on Prime Day. Best Buy probably insisted on making a deal with Amazon as part of their partnership after not being allowed to participate in the sales on Prime Day.
The deals end Saturday at midnight central time.