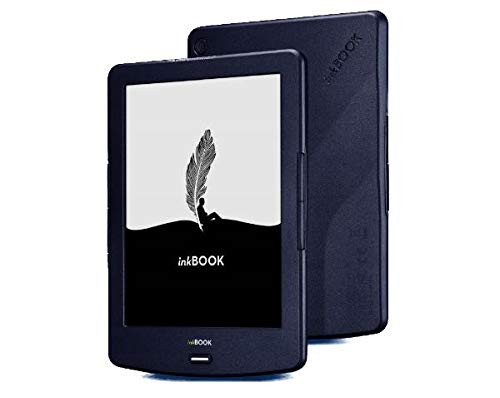 InkBook's latest entry-level ebook reader, the InkBook Lumos, has turned up for sale at Amazon for $99 with free shipping.
That's a good price for a 6-inch ebook reader with a frontlight, and it's the only sub-$100 model that features a frontlight with adjustable color temperature.
The InkBook Lumos also has page buttons, a capacitive touchscreen, 4GB of storage space, 512MB of RAM, and a microSD card slot for cards up to 32GB.
It also has a dual-core CPU, Wi-Fi, and it runs Android 4.2.2 and is open to install apps.
The native reading app supports EPUB and PDF formats, including Adobe DRM, as well as MOBI, TXT, FB2, HTML, RTF, and CHM formats.
The only downside with the InkBook Lumos is it has a low resolution E Ink screen with 167 ppi, but at least it uses an upgraded Carta screen unlike the entry-level Kindle.
The InkBook Lumos is proof that Amazon is overcharging for the entry-level Kindle and under-delivering on features. Jeff Bezos would like you to believe that Amazon is selling Kindles at a loss to make money off selling content, but that's simply not true in 2018.
The InkBook Lumos has a higher-quality E Ink Carta screen with better contrast than the Kindle's outdated Pearl screen, and the InkBook also adds a frontlight, page buttons, a dual-core processor, and a memory card slot. Simply put, it blows the entry-level Kindle out of the water, and it does so at the same exact price (minus the advertisements on the Kindle, of course).
Between this and the Kobo Aura 2 that now sells for $99 at Walmart, people no longer have to settle for the outdated entry-level Kindle, also known as the lowest rated Kindle of all time, to get an ereader for under $100.
The InkBook Lumos is expected to start shipping on September 5th. Check back in a couple of weeks for a full review.