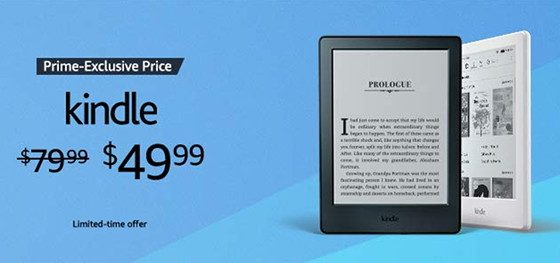 Amazon is running another sale on Kindle ereaders and Fire tablets exclusively for Amazon Prime members.
The deal takes $40 off the price of the Kindle Paperwhite and Fire HD 10, taking the price down to $79 and $109 respectively, and the regular Kindle is marked down to $49 and the Kindle for Kids bundle is $69, both are $30 off.
The 7-inch Fire tablet is only $34.99.
Certified refurbished Kindle Voyages remain on sale at $119 for the Wi-Fi model and $139 for 3G, and that deal doesn't require having a Prime membership.
They also have the Kindle Essentials bundles on sale but with the $30/$40 cover and a $20 power adapter it's more like smoke and mirrors than a good deal. You can buy much cheaper covers and USB power adapters than that, but it's not a bad option if you want Amazon's official cover.
Both the Kindle and Kindle Paperwhite should have been upgraded by now compared to other ebook readers on the current market, but at least at $50 and $80 they're a lot cheaper than other brands.
Here's the list of sales for Prime members (if you don't have Amazon Prime you can get it for as little as $12.99 for one month):
Kindle Deals
Kindle – $30 off
Kids Kindle – $30 off
Kindle Paperwhite – $40 off
Kindle Paperwhite 3G – $40 off
Kindle Voyage Refurbs – $20 off (Prime not required)
Fire Tablet Deals
Fire 7 – $15 off
Fire HD 10 – $40 off
Fire HD 8 Refurbs – $15 off (Prime not required)