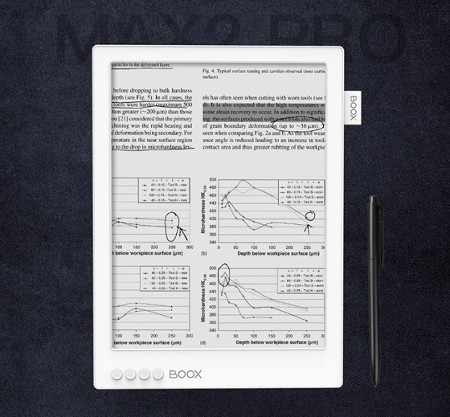 Onyx had several of their latest new devices on display at the Hong Kong Electronics Fair earlier this month. Among them was a special limited edition version of the Onyx Boox Max 2, called the Max 2 Pro.
It has the same 13.3-inch E Ink screen and 1.6GHz quad-core processor as the regular Max 2, but it adds twice as much RAM and storage space, with 4GB and 64GB respectively.
Additionally, it's available with a white casing instead of black.
It runs Android 6.0 like the regular Max 2, of course, and it shares all the same features, including being able to use it as a secondary monitor via a micro HDMI port.
Apparently the Max 2 Pro was made to help celebrate Onyx's tenth anniversary.
It looks like the limited edition model is partially geared toward musicians with the added storage space for music scores and ability to use a wireless Bluetooth foot pedal to turn pages.
There's no word yet on pricing or availability but this post will be updated if anything turns up.
Onyx Boox Max 2 Pro Limited Edition