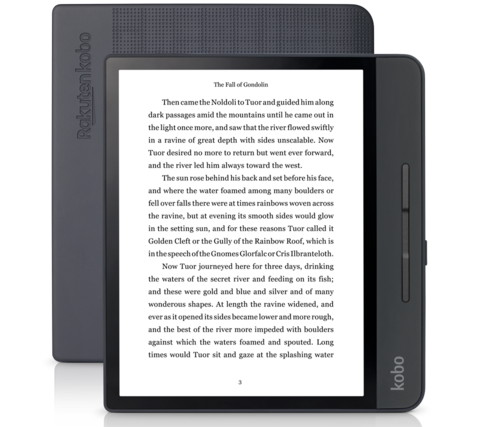 When Kobo revealed their new 8-inch Kobo Forma ebook reader last month, the press released mentioned a 32GB model but no specifics were given in regards to a release date or price.
Well, it's turned out to be a short wait, as the 32GB Kobo Forma is now available to purchase from Kobo.com. There's no sign of it on Walmart's website yet; in fact they still don't even have the 8GB Kobo Forma available (what a disappointing partnership that has turned out to be).
The 32GB Kobo Forma is priced at a wallet-emptying $329 USD.
Add another $50 for the PU leather cover and you're just $20 shy of 400 bills.
That's a lot of money to spend on a dedicated ebook reader, but it's not far off from Amazon's 7-inch Kindle Oasis, which sells for $279 for the 32GB model, plus $20 more to remove the ads.
The Kobo Forma has a larger screen so I guess that's why they priced it higher, but considering Kobo's lack of presence in the United States, wouldn't it make more sense to charge less than Amazon to get more people interested in the Kobo brand?
Unlike the Limited Edition 32GB Kobo Aura One, the 32GB Kobo Forma is being sold in Canada as well, with a price of $349 CAD, which is considerably lower than the US price—after conversion that's only about $265 USD.
So why does Kobo charge so much more in the US?
Unfortunately the 32GB version of the Kobo Forma isn't available to order from Canada-based Indigo so US residents are unable to take advantage of the favorable exchange rate.