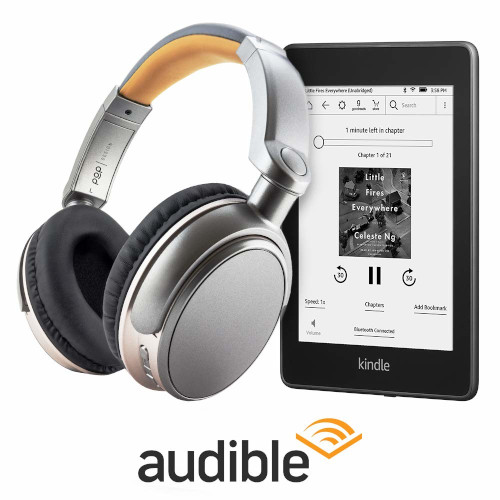 Amazon has just put up a new bundle deal offer for the latest Kindle Paperwhite and it's actually a pretty good deal.
The Kindle Paperwhite Audible bundle includes the waterproof Kindle Paperwhite and a pair of Bluetooth headphones, along with a free three month trial for Audible audiobooks.
They're selling the bundle for $209 with the 8GB Kindle and $239 with the 32GB Kindle Paperwhite.
Update: Just a couple of hours after posting this article Amazon put the new Paperwhite on sale for $99 and dropped the prices of the bundles significantly. The 8GB bundle is now $139 and the 32GB Paperwhite bundle is $169.
The Bluetooth headphones included in the bundle are these Pop over-ear headphones, which are selling for $79.
So if you do the math this bundle deal is a pretty good deal since the Paperwhite 4 normally sells for $129 without the headphones. The 3 month free trial for Audible is a nice perk, but it will auto-renew at $14.95 per month if you don't cancel after the three month trial.
Amazon's Kindle deals have really been lacking this year, more so than I can ever remember, but now they're finally making things right. $99 for a waterproof Kindle Paperwhite 4 is a great deal, and if you want some nice wireless headphones the bundles are a good option too.
(Parts of this post have been edited out after the sale prices went live; before then it was mostly a rant about the Kindle Paperwhite not being on sale in the US while it's been on sale from Amazon's other websites in Europe for the past couple of weeks—it's about time they put it on sale here too!)