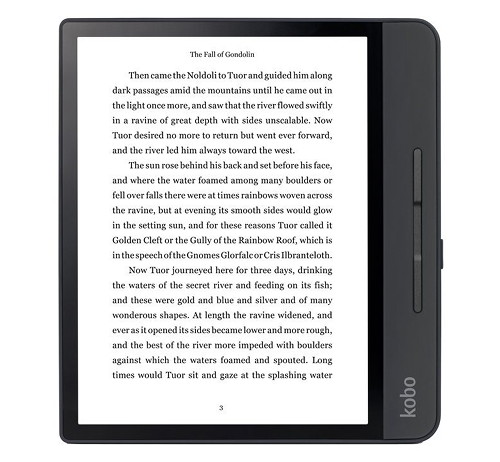 Here's a quick tip that some Kobo Forma owners will appreciate.
Thanks to the new Kobo software update that was released yesterday, one of the smart folks at MobileRead figured out a way to turn off the annoying swipe to turn on requirement that Kobo added to the Kobo Forma.
First off, the power button is as hard as a rock so there's very little chance of accidentally pressing it, so I don't know why they added the second step in the first place.
Previously you had to buy Kobo's $50 sleepcover to avoid the extra step (or carry around a magnet), but luckily that's no longer required.
If you don't mind adding a line to your Kobo ereader's config file, it only takes a couple of minutes to remove the swipe screen from your Kobo Forma.
(These directions apply to using a Windows computer; sorry, I don't know the specific steps required with Macs.)
How to Remove Kobo Swipe Screen
1. Plug your Kobo into your computer and connect to USB mode.
2. On the Kobo drive, the config file can be found by opening the .kobo folder > Kobo > Kobo eReader.conf.
3. Right-click on the Kobo eReader.conf file and open it with a text editor such as Notepad++.
4. Scroll down to the "PowerOptions" section and add the following line to the bottom of the list:
UnlockEnabled=false
5. Save the file and then safely eject the Kobo Forma from your computer. That's it! No more swipe screen.
Likewise, with other Kobo models you can add UnlockEnabled=true to the file to add the swipe screen to your device.
via: MobileRead