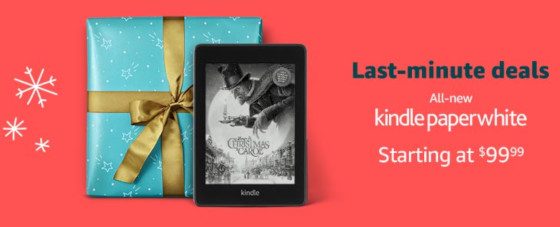 With Christmas just one week away, there are still some good deals to be had on ebook readers and tablets. In fact some deals are just as good as Black Friday sales, and some are even better.
As predicted, the new Kindle Paperwhite that's on sale for $99 is expected to be back in stock in a day or two so you can still probably get one in time for Christmas with 2-day shipping.
Amazon also has the latest 9.7-inch iPad with Apple Pencil support on sale for $249 ($80 off) and the Fire HD 10 is on sale again for $119 ($99 refurbished)—both are good tablets for ereading with their high-resolution screens.
The Kobo Clara HD is still on sale for $99 at Walmart as well. It has a 300 ppi E Ink screen, and unlike Kindles, it has a frontlight with adjustable color temperature.
The Nook Glowlight 3 and new 10.1-inch Nook Tablet are on sale again too.
eBook Reader Deals
Kindle Paperwhite – $99 ($30 off)
Kindle Paperwhite Audible Bundle – $139 ($115 off)
Cheap Refurbished Kindles at Woot – $20 – $35 each
Onyx Boox Note 10.3 – $30 off coupon still active
Kobo Clara HD – $99 ($30 off)
Kobo Aura H2O – $159 ($20 off)
Nook Glowlight 3 – $99 ($20 off)
Also, if you missed it here's a tip on how to get a Kindle Oasis for 25% off.
Tablet Deals
Apple iPad 9.7 32GB – $249 ($80 off)
Apple iPad 9.7 128GB Gold – $329 ($100 off)
Fire HD 10 – $119 ($30 off)
Fire HD 10 Refurbished – $99 ($20 off)
Fire HD 8 – $49 ($30 off)
Fire Kids Tablets – ($30-$50 off)
Nook Tablet 10.1 – $119 ($10 off)