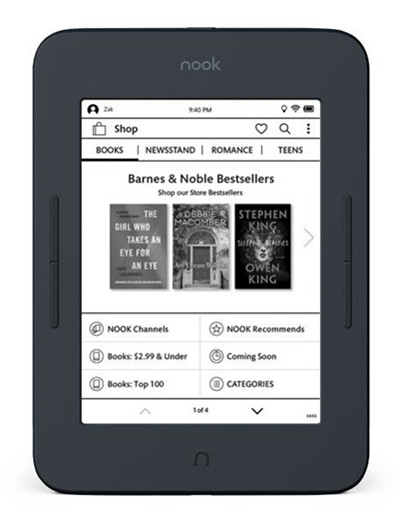 When it comes to buying ebooks, there are plenty of ways to do so. You can buy them from a phone, a tablet, a PC, an app, and pretty much anything with a web browser.
Most ebook readers like Kindles and Kobos and Nooks have a dedicated store built-in. In fact you'd have a pretty hard time finding an ebook reader without an onboard ebookstore included in this day and age.
Having an ebook store on your ebook reader is convenient, but I find that I almost never buy ebooks from a device's onboard store.
Even with a Kindle I find it much easier to buy ebooks from a computer or tablet instead, and then have them sent to the Kindle wirelessly.
The problem with onboard ebook stores is the process of searching and browsing ebooks is slower and more tedious, and the filtering and sorting options are often more limited than using a different device with a web browser. It makes it harder to find what you're looking for.
I like how Kobo's ereaders have OverDrive integration to download library ebooks directly but unless you know the exact title or author you're looking for, trying to browse for library books on a Kobo is a painful and slow process.
It's much easier to browse a library's catalog from a computer, tablet or phone, and it's much easier to find ebooks that are available to download now.
So what about you? How do you prefer to buy your ebooks? Do you find onboard stores on ebook readers frustrating to use?