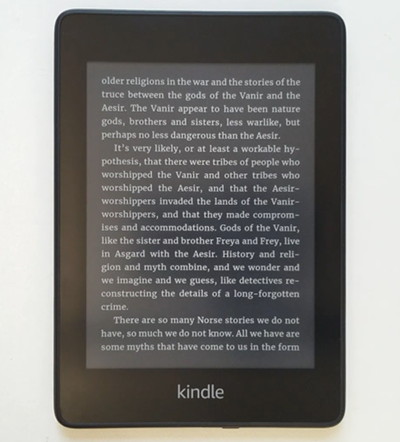 Reading apps for phones and tablets have had the option to invert the text to read with white text on a black background for many years, often called Night Mode, but it's not a common feature when it comes to dedicated ebook readers like Kindles and Kobos.
Amazon finally added the option to invert the text on the Kindle Oasis 2 when it was released last year, and they also brought inverted mode to the new Kindle Paperwhite 4 that was released in November 2018.
Amazon considers it an accessibility feature for those with light sensitivity.
That makes sense with tablets and phones, but E Ink screens don't emit light and the frontlight would still be at a similar settings when reading at night regardless of which mode you're using. So does that really help?
Some studies suggest that reading using inverted mode can help inhibit myopia, so there may be some benefit in that regard.
But it sounds like a lot of people like using inverted mode simply because they prefer it, not because of light sensitivity or other concerns.
Do you prefer reading using white text on a black background? If so, why do you like it better than black text on a white background?