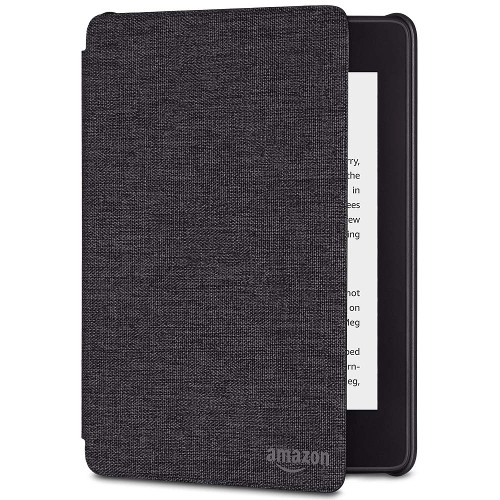 Here's a quick review of the water-safe fabric cover for the new Kindle Paperwhite.
The water-safe fabric cover sells for $29.99 from Amazon. It's available in black, blue, and yellow.
It's not waterproof like the new Kindle Paperwhite; Amazon calls it "water-safe".
Water beads up on it and doesn't really soak in so you can easily wipe it off.
It's definitely a better option than the leather covers if you plan to read in environments where it could get wet.
Like most covers it has a magnetic front to keep it closed, and it will automatically turn your Kindle on and off when opening and closing. However, if you have a Special Offers model with ads you still have to swipe the screen to turn the device on, which I find excruciatingly annoying. Paying Amazon $30 for a cover isn't good enough; you still have to pay another $20 to get rid of the stupid ads.
The cover has rather large cutouts on the top and bottom, which seems rather unnecessary. The flap doesn't sit perfectly flat when folded back but you can push it flat and it might stay that way eventually with some breaking in.
One thing to note is it's pretty difficult to remove the Kindle Paperwhite from the case, but unless you plan on doing so often it's not really a problem.
The cover is fairly lightweight but it does add about 112 grams of weight to the Kindle. It has a plastic back shell and the front flap is rigid so it does offer a good amount of protection.
I like the feel of the fabric material and it seems like it's pretty durable, but at $30 the price is higher than most 3rd-party covers. Fintie sells a similar cover for half that but it doesn't look like the quality is as nice and it's not water-safe so it all depends on what you're looking for in a cover.
KPW Fabric Cover Review