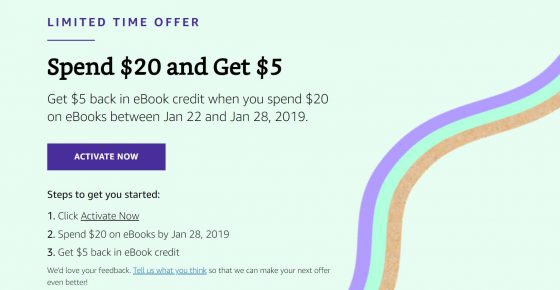 Amazon has rolled out a new promotional offer where you can get a $5 ebook credit when you spend $20 on Kindle ebooks.
It's a limited time deal that's valid until January 28th, 2019.
Here's the page at Amazon where you can activate the offer.
You have to active the promotion to get the $5 credit, and the credit expires after 30 days if you don't use it.
The offer applies to all Kindle ebooks sold by Amazon, even best selling titles from big publishers.
The offer does not include pre-orders, however. Digital magazines and audiobooks aren't part of the deal either, just Kindle ebooks.
Check the offer page below for a full list of terms and conditions, along with some frequently asked questions.