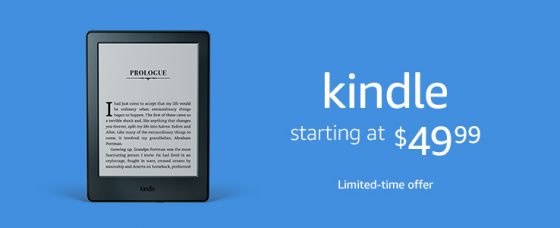 Amazon put the entry-level Kindle and the Kindle Paperwhite on sale at the end of last week, and now they've suddenly dropped the price of the entry-level Kindle without ads, including the international model, by an additional $20.
The non-ad version normally sells for $99, and then when the sale started earlier last week it was selling for $69, and now they've got the entry-level Kindle marked down to $49 without Special Offers.
They sold out of the Special Offers versions with ads so now they're charging the same price for the non-ad version.
It looks like Amazon wants to get rid of the entry-level Kindle. I wouldn't be surprised to see it get replaced soon or even possibly discontinued.
Hopefully they won't be getting rid of the entry-level model entirely, but when they regularly put the Kindle Paperwhite on sale for only $10-$20 more than the entry-level model you never know.
It's more likely they'll replace it with a newer model soon. Either way price cuts like this usually mean something is about to change.
They still give the option to add a free 3 month Kindle Unlimited subscription with the purchase of the Kindle as well, or you can opt to get it without Kindle Unlimited. Update: The option to add KU isn't appearing now.