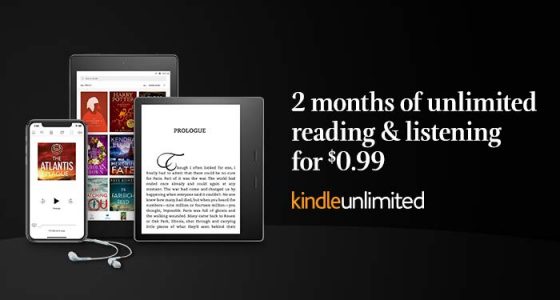 Another Kindle Unlimited promotion has turned up at Amazon to subscribe to Amazon's ebook subscription service for cheap.
This time around you can get 2 months of Kindle Unlimited for $0.99. It's for new members and for those that have ended a subscription in the past.
It's not as good as the 3 months for $0.99 deal they had awhile back, but if your subscription for that has ended you can start up again with this deal.
If you don't mind having lapses in service now and then, you can basically get by with these extended trial offers that come up a few times a year.
Kindle Unlimited normally costs $9.99 per month to get unlimited access to a catalog of over 1 million ebooks and a few thousand audiobooks, plus a rotating selection of magazines and comics.
With these KU deals Amazon will automatically start charging $9.99 per month after the 2 months is up, but you can cancel immediately after claiming the 2 months for $0.99 offer and still have access to Kindle Unlimited for the full 2 months.
The deal expires on May 31st, 2019 so there's plenty of time to claim the offer if your active subscription ends soon.