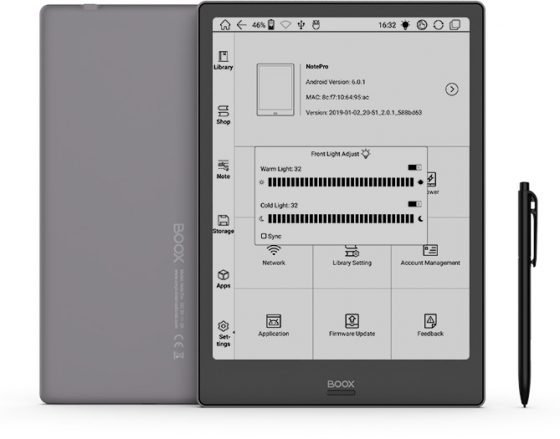 When it comes to reading PDFs, the 10.3-inch Onyx Boox Note is one of the best ereaders on the market, and the new Pro model is even better than the original with the added frontlight and increased RAM.
The Note Pro's Wacom touchscreen works well for adding handwritten notes directly on PDFs, and you can also turn off the writing to use the stylus to accurately add highlights and underlines.
Onyx's Neo Reader app offers a wide range of features for PDFs, although the new 3.0 version is still a bit buggier than the previous version.
For instance, pinch-zooming currently is not working like it normally does—it requires too much movement to use with one hand.
Onyx updates the software on their newer devices frequently so the bugs should get worked out soon.
The Note Pro runs Android 6.0 and is open to install Android apps so you can use other PDF apps if you'd like, but Onyx's Neo Reader app is optimized for E Ink and it's going to work best with the included stylus for adding notes.
For the most part this review is basically a reprint of the Onyx Nova Pro PDF review. Both devices run the same software and have the same 1.6GHz quad-core processor. The larger 10.3-inch screen on the Onyx Note Pro is the main difference between the two, and having 4GB or RAM does make the Note Pro react a little faster, as you can see in the video review below.
Onyx Note Pro PDF Features
Zooming Options – There's a zoom dial to zoom in by increments, along with fit-to-width and fit-to-page presets, and there's also a manual selection tool. You can also zoom in and out using a pinching gesture. There's a new "crop step" setting but it doesn't seem to do anything and it's not mentioned in the manual.
Navigation – There are various navigation settings to customize how the app pages forward and in what order parts of the screen are shown. For example, with two column PDFs you can set the navigation settings to follow the columns from top to bottom and left to right, and with manga you can set it to go from right to left.
Notes and Highlights – You can add handwritten notes and drawings to PDFs by writing directly on the PDF with the Wacom stylus. There's also a sidenote feature for landscape mode to add blank note pages to a PDF file. You can press and hold to add highlights with either the pen or a finger. You can also attach text notes to highlights, and there are a number of settings and options. All notes and highlights can be exported.
Multiple Documents – With Neo Reader you can have up to four documents open at the same time. Tabs show at the top of the screen to switch between documents.
Contrast Adjustment – The app includes a contrast adjustment tool to make text appear bolder and darker. You can adjust images and text separately.
Text-to-speech – You can use TTS with PDFs using the Note Pro's built-in speakers or you can connect Bluetooth headphones or speakers.
Reflow – The Neo Reader app offers PDF reflow, which works best for basic text-based PDFs. This makes a PDF appear more like an ebook and gives it adjustable font sizes and layout settings. It doesn't seem to work very well but then again it's kind of pointless with a large screen anyway.
Dictionary – Onyx uses StarDict for the dictionary, with different languages ready to install, and you can download more online. Holding a word opens the menu showing a definition or you can search the dictionary manually.
Misc – The Onyx Note Pro also has search, table of contents support, you can set page refresh frequency, add bookmarks, use hyperlinks, rotate the screen in all four directions, jump to pages, go forward and back, it can automatically turn pages, and you can view 4 or 9 pages at once. The new software has the option to set custom tap zones for paging. Another new feature they added is the ability to view two pages at once in landscape mode.
Onyx Note Pro PDF Review Video