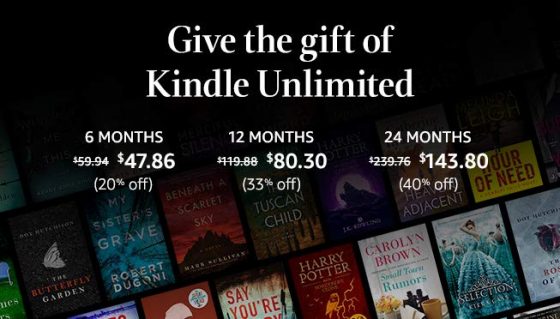 Amazon has brought back their Kindle Unlimited gift deal with 20-40% off memberships, a good last minute gift idea for Mother's Day.
Kindle Unlimited is Amazon's subscription service that grants members access to a library of over 1 million ebooks, plus several thousand audiobooks and a rotating selection of magazines and comic books.
The regular price is $9.99 per month, but with the gift deal you can get it for as little as $5.99 per month, depending on which term you choose.
The deal breaks down like this:
6 months – 20% off
12 months – 33% off
24 months – 40% off
The recipient can elect to exchange the Kindle Unlimited membership for an Amazon gift card if they choose, so that helps make it a safer gift idea.
Kindle Unlimited books can be read on Kindle ebook readers, Fire tablets, and any device with a Kindle app or web browser using the Kindle Cloud Reader.