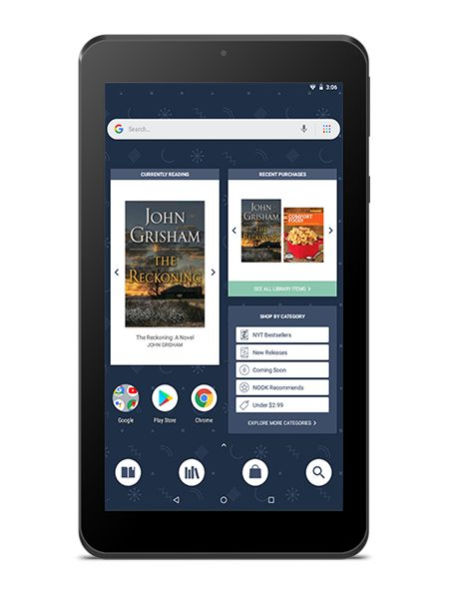 Barnes and Noble is running a deal where you can get thirteen free ebooks when purchasing the 7-inch Nook tablet.
Oddly the offer isn't available for the Nook Glowlight 3 or any of Barnes and Noble's nicer tablets, just the least expensive Nook tablet that sells for $49.99.
The deal is only valid for the next couple of days and ends on 05/25/19.
The fine print says the deal is only available online, not in stores.
It says they'll send an email within three days after purchase with a coupon code to redeem the ebooks.
Of course they don't let you pick just any thirteen books. The offer includes the following titles:
Five Years Gone by Marie Force
Land of the Dead by Robert Swartwood
Silenced Girls by Roger Stelljes
The Jack Reacher Cases (A Hard Man To Forget) by Dan Ames
Hard Truth About Sunshine by Sawyer Bennett
Port Danby Cozy Mystery Series by London Lovett
The World Beneath (Joe Tesla Series #1) by Rebecca Cantrell
After Me by Deborah Coonts
Perilous Trust (Off the Grid: FBI Series #1) by Barbara Freethy
Immortal Vegas Series Box Set Volume 1 by Jenn Stark
The Forbidden Duke by Darcy Burke
Primary Target by Joe Weber
Killer Heels by Sheryl J. Anderson