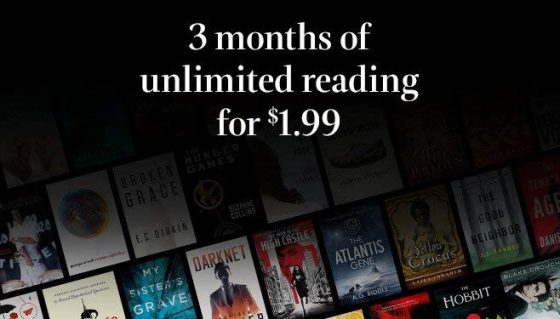 Amazon has started up another Kindle Unlimited promotion and this time around you can get a 3 month subscription for $1.99.
The offer is for new or returning users only, not current Kindle Unlimited members but the Kindle Unlimited Gift Deal is still active for current subscribers where you can get 20%-40% off the regular price.
A Kindle Unlimited subscription normally costs $9.99 per month, and new members get a free 30-day trial.
The 3-months for $1.99 deal runs through the month of August.
Like most Kindle Unlimited promos, Amazon will automatically start charging the full $9.99 per month rate once the offer has ended. But you can always cancel anytime, even immediately after subscribing and you'll still have access to Kindle Unlimited through the length of the promotion.
Kindle Unlimited members get access to a catalog of over 1 million Kindle ebooks, along with a few thousand Audible audiobooks, and a rotating selection of magazines and comic books.
You don't have to own a Kindle to use Kindle Unlimited. You can use a Kindle app on a phone, tablet, or computer, and anything with a web browser.