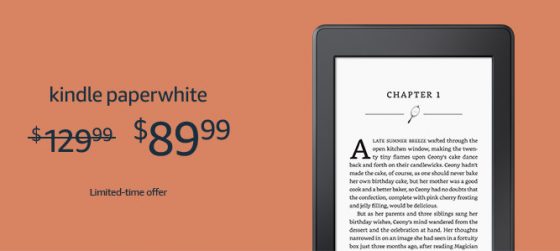 Kindles are finally on sale for everyone! Last week I posted about how Amazon hasn't had a regular Kindle sale for non-Prime members since the beginning of June, and now that streak finally ends.
The new frontlit entry-level Kindle that was released back in April is marked down to $64.99, which is $25 off the regular price, and the latest waterproof Kindle Paperwhite is on sale for $89.99 for 8GB and $114.99 for 32GB.
That's $40 off the regular price of the base version and $45 off the 32GB model.
The cellular Kindle Paperwhite is marked down by $45 as well at $204.99.
Amazon also has Kindle and Kindle Paperwhite covers on sale. The entry-level Kindle cover is $5 off. The Kindle Paperwhite fabric cover is $5 off as well, and the leather cover is $8 off.
The previous generation Kindle Oasis is being discounted too, starting at $174.99 for the 8GB version, but the new one is not on sale.
If you have an older Kindle you can trade it in to get an even lower price with Amazon's 25% off deal.
Hopefully this sale lasts longer than the 1-day only sale on the Kindle Essentials bundles last week, but Amazon doesn't specify how long this deal is active.