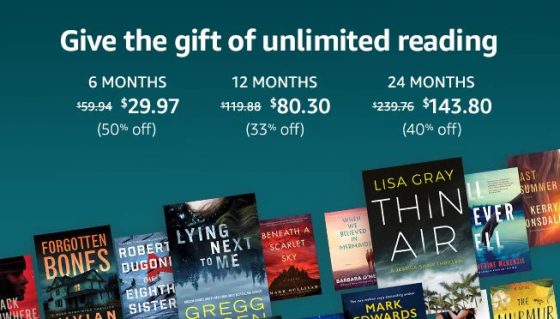 Amazon has started another Kindle Unlimited gift promotion where you can get access to their library of ebooks, audiobooks, comics and magazines at a significant discount.
The new Kindle Unlimited gift deal takes 50% off the regular price of a 6-month subscription, taking the price from $59.94 down to $29.97.
The 6-month offer has been 20% off for the past several months, but now it's even better being able to get it for 50% off.
The offer applies to new and existing subscriptions; it's a gift deal but it can be applied to your own KU account.
They also have 12-month and 24-month subscriptions discounted as well but at a lower rate, the same rate they've been at for awhile now. 12 months is 33% off and 24 months is 40% off.
Kindle Unlimited works with Kindle apps so you don't have to own a Kindle to use it. You get unlimited access to a catalog of over 1 million ebooks, and you can have up to 10 downloaded at one time. The KU catalog also includes a few thousand audiobooks, along with other digital content like comics and magazines.