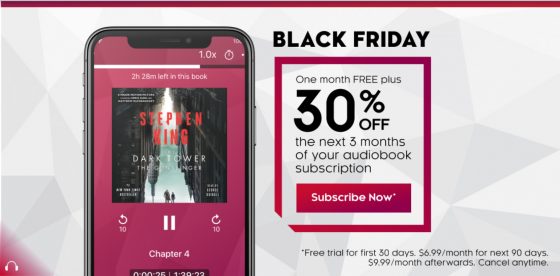 Kobo has started rolling out a few Black Friday deals on audiobooks and ebooks, but so far their lineup of Kobo ereaders are still all at the regular prices so who knows if they're going to do any sales this week or not.
Kobo's Black Friday audiobook deal takes 30% off a three month subscription, taking the monthly price down to $6.99, plus the first month's audiobook is free. You can cancel the subscription at anytime.
If you go through Walmart's website it's advertised as a Walmart Audiobooks deal.
Kobo also has some Black Friday ebook deals. It seems to vary by region, as the url is US-specific.
Currently the deal takes 60% off select mysteries with the code provided. The selection will probably change daily considering the code has the day in it.
It's disappointing that they still haven't put any Kobo ereaders on sale yet but at least this is a start.
Also, the first three books in Brandon Sanderson's Stormlight Archive series are on sale for $2.99 each. They're also on sale at Amazon and other ebook stores.