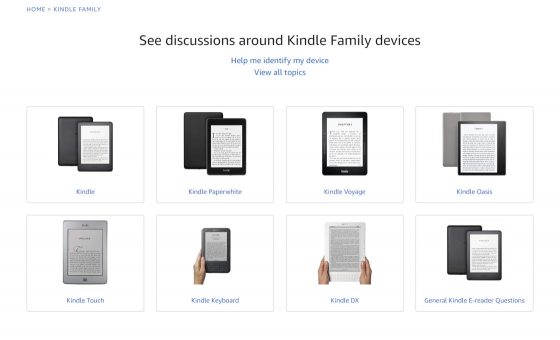 Today Amazon rolled out a new redesigned customer help forum for Amazon devices and digital products.
They have a section for Kindle devices, and now with the new redesigned forum you can ask and view questions related to specific Kindle models.
You can also view all posts related to different Kindle models, along with the general Kindle help section.
There's a separate section for Kindle Reading Apps as well. Oddly the Kindle Books forum seems to have disappeared with the new redesign, even though it's still mentioned on the getting started page.
Amazon's forum is mostly a customer-to-customer help forum, but Amazon staff moderators will chime in sometimes too to provide technical assistance.
However, moderators don't have access to any of your account information so you still need to contact customer support directly for any account-related questions or issues.
Check out the Getting Started Guide for more information about how Amazon's customer forums work.
For those in the UK, there's also this separate Kindle help forum for Amazon UK.