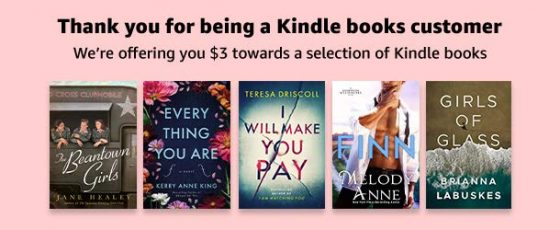 Here's a roundup of 10 free highly-rated Kindle ebooks and Kindle deals as of February 9th, 2020.
Amazon still has the Kindle and Kindle Paperwhite on sale for Valentine's Day, along with covers for them, and they've added some ebook deals too.
Please note the free Kindle books listed below are free as of February 9th, 2020. Most of these titles are free for a limited time only and will expire in the next few days or hours before going back to the regular list price.
A good place to find more free Kindle books is on the free bestsellers list at Amazon.
You don't need to own a Kindle ebook reader or a Fire tablet to read these free ebooks; you can use free Kindle reading apps for iPad, iPhone, and Android devices, or use a computer or web browser.
Subscribe to The eBook Reader Blog to keep updated on future free ebooks posts, along with ebook reader news, reviews and how to guides.
Kindle Deals
Kindle Best Sellers Deal – 2/9 only
$3 Credit Towards Select Kindle Books
Kindle – $25 off
Kindle Paperwhite – $35 off
Kids Kindle – $25 off
Kindle Fabric Cover – 23% off
Kindle Paperwhite Leather Cover – 25% off
Kindle Paperwhite Fabric Cover – 23% off
Kindle Paperwhite 3 – $69.99 new
Kindle Voyage – $82.99 refurbished
Kindle Unlimited Gift Deal – 5-20% off
Amazon First Reads – Free Monthly eBook for Prime Members
10 Free Kindle eBooks
Out of Hiding (Seeking Sanctuary Book 1) by Catherine Sue Morgan
Romantic Suspense, 4.4 stars, 79 reviews
When one more look-alike woman bearing her name is murdered just blocks away Genevieve Gordon flees Witness Protection to hide in the isolated woods of northeastern Oklahoma where she spent her childhood summers. There she encounters the best friend of her youth and her teenage sweetheart, JD Burke, a boy she's never forgotten. Back from war, tormented by flashbacks and knowing he is a danger to everyone he loves, JD Burke seeks solitude and sanctuary in the deep woods of his youth…
Sleepers (The Blue Planets World series Book 1) by Darcy Pattison
Science Fiction, 4.6 stars, 51 reviews
A test-tube baby, Jake Rose is half human and half alien; he has both lungs and gills. He's comfortable breathing air—or water. He's been raised on the "other blue planet," Rison. However, in a horrifying science-gone-wrong scenario, Rison will soon implode. Jake evacuates to Earth to live with his human father's parents on Bainbridge Island in Puget Sound. His mother, Dayexi Quad-de is Rison's ambassador to Earth. She's tasked with finding Risonians a new home in Earth's oceans in a peaceful manner. Jake accidentally discovers that Earth's elite ELLIS forces are trying to sabotage Mt. Rainier…
One S'more Summer (The Campfire Series Book 1) by Beth Merlin
Fiction, 4.4 stars, 181 reviews
For twenty long years, Gigi Goldstein has been pining away for her best friend's guy. She knows it's wrong and it has to stop, but she hasn't been able to let go ever since they all met on the bus to summer camp back when they were seven years old. The same week that her best friends finally announce their wedding date, Gigi loses her high-profile design job. With all of her dreams unravelling, she runs to the last place she remembers being happy. Taking the Head Counselor position at Camp Chinooka, Gigi hopes to reclaim the joy she felt as a camper, but the job isn't all campfire songs and toasting marshmallows…
Fall Back Skyward (Fall Back Series #1) by Autumn Grey
Romance, 4.4 stars, 227 reviews
Eleven years ago, I saved her. I loved her. But they took me away from her and locked me up. For two years, all I could think about was her. She consumed me. Took up every room in my head and gave me something to focus on, knowing I would see her soon. Nine years ago, I watched her as she walked down the aisle and into the arms of a man who wasn't me. My brother. I left my home and never looked back. Now, I'm staring at seven letters, each envelope stamped with one word in bold, red ink: URGENT…
Primary Target: The Forging of Luke Stone by Jack Mars
Thriller, 4.5 stars, 162 reviews
n PRIMARY TARGET (Book #1), we see the forging of one of the world's toughest—and most lethal—soldiers: Luke Stone. A 29 year old veteran who has seen enough battle to last a lifetime, Luke is tapped by the Special Response Team, a secretive new FBI agency (led by his mentor Don Morris) to tackle the most high-stake terrorism operations in the world. Luke, still haunted by his wartime past and newly married to an expecting Becca, is dispatched on a mission to Iraq, with his new partner Ed Newsam, to bring in a rogue American contractor. But what begins as a routine mission mushrooms into something much, much bigger…
MacFarland's Lass (Scottish Lasses Book 1) by Glynnis Campbell
Historical Romance, 4.4 stars, 471 reviews
A woman on the run…a man on the hunt. He has forty days to earn her trust. She has forty days to win his heart. They have forty days to outwit their enemies. When Florie Gilder, the once-respected jeweler to Queen Mary, claims sanctuary in an abandoned church for a crime she didn't commit, huntsman Rane MacFarland, a local hero of the common folk, vows to protect her. But when his overlord charges him with preventing the fugitive lass's escape, Rane finds himself torn between duty and desire when he begins to fall for his spirited captive. And when powerful foes conspire to turn Rane and Florie against each other, they need courage, wits, and, most of all, love, to survive.
Death on the Diversion (Secret Sleuth Book 1) by Patricia McLinn
Mystery, 4.4 stars, 64 reviews
Sheila Mackey has a secret. To the world, she's author of a blockbuster book. Her wily great-aunt, the actual author, orchestrated this mutually beneficial masquerade. Now the aunt's retiring and Sheila must draft Act Two of her own life. This cruise is supposed to be the perfect time to do that. Crossing the Atlantic on the Diversion, Sheila finds a dead body on deck. She realizes she knows a whole lot more about the interactions of the victim and suspects than the ship's officials do. She's drawn into sleuthing, but finds herself hampered by a well-meaning but overprotective would-be Dr. Watson…
Of Cinder and Bone by Kyoko M
Science Fiction, 4.5 stars, 87 reviews
After centuries of being the most dangerous predators on the planet, dragons were hunted to extinction. That is, until Dr. Rhett "Jack" Jackson and Dr. Kamala Anjali cracked the code to bring them back. Through their research at MIT, they resurrected the first dragon anyone has seen alive since the 15th century. There's just one problem. Someone stole it. Caught between two ruthless yakuza clans who want to clone the dragon, Jack and Kamala brave the dangerous streets of Tokyo to steal their dragon back in a race against time before the world is taken over by mutated, bloodthirsty monsters that will raze it to ashes.
Murder in the Manor by Carissa Andrews
Mystery, 4.3 stars, 364 reviews
Lacey Doyle, 39 years old and freshly divorced, needs a drastic change. She needs to quit her job, leave her horrendous boss and New York City, and walk away from the fast life. Making good on her childhood promise to herself, she decides to walk away from it all, and to relive a beloved childhood vacation in the quaint English seaside town of Wilfordshire. Wilfordshire is exactly as Lacey remembers it, with its ageless architecture, cobblestone streets, and with nature at its doorstep. Lacey doesn't want to go back home—and spontaneously, she decides to stay, and to give her childhood dream a try: she will open her own antique shop…
Smoke, Mirrors and Demons (The Carnival Society Book 1) by Kat Cotton
Fantasy, 4.4 stars, 60 reviews
Welcome to the circus – the most demonic show on earth! Ten years ago, I ran away from my home in the circus, leaving behind things my teenage self couldn't handle. I kept my life on the straight and narrow, even building a career in law enforcement to make amends. Now my boss wants me back there, undercover. The cool, hipster carnival troupe I infiltrate is miles moved from the rough and tumble circus I grew up in but it has its own dangers: murder, mayhem and demonic forces. Grisly murders trail this troupe and make them prime suspects. I need to get hard evidence to build a case but, as emotions become entangled and old fears resurface, it's time for a tough decision: embrace the powers I've rejected for the last ten years or let innocent people die.