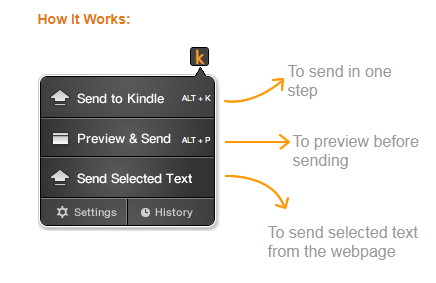 Website advertisements are getting more and more annoying, especially on news and tech sites, it seems.
They often have an auto-playing video in the bottom right corner, a stupid banner along the bottom that you can't get rid of, ads that move when you scroll so you can't get them out of view, pop-up subscription boxes, and the ever-present cookie acceptance banners, which aren't ads but they're still obnoxious.
Luckily there are a few ways to avoid all that nonsense when you just want to read an article in peace.
Some people use ad-blockers, but there are other options as well, like using the Send to Kindle browser extension for Chrome or Firefox.
It adds a little icon to your web browser that lets you view and easily send news articles, blog posts, and other web content to your Kindle or Kindle app.
The Send to Kindle extension automatically removes all the advertisements and reformats the page, which you can preview before sending to your device. In fact you can use the preview option to view webpages sans ads without sending anything to a Kindle.
Personally I don't like how ad-blockers often remove helpful elements that aren't ads (and since you can't see them you'll never know they exist), and how they negatively alter a website's layout. I don't want filtered content based on what somebody else thinks should be filtered.
I'd rather view websites unfiltered, even if that means seeing ads, (occasionally ads are actually helpful), so the Send to Kindle extension helps get around the websites that have gone overboard on using obnoxious advertising tactics. If I'm researching something on a website with a bunch of annoying ads, I can just click the Send to Kindle button and read the article without ads. You can have the article sent to your Kindle if you'd like, but usually I just use the preview button to read it in the web browser without ads.