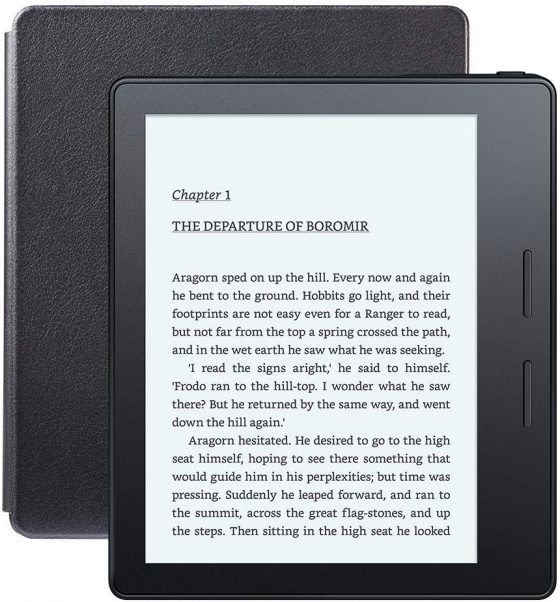 Here's a list of 10 free highly-rated Kindle ebooks and some Kindle deals for the weekend.
Unfortunately Amazon's latest Kindle sale has ended, but they still have a deal where you can get 20% off when buying two Kindles, excluding the Kindle Oasis.
Please note the free Kindle books listed below are free as of March 8th, 2020. Most of these titles are free for a limited time only and will expire in the next few days or hours before going back to the regular list price.
A good place to find more free Kindle books is on the free bestsellers list at Amazon.
You don't need to own a Kindle ebook reader or a Fire tablet to read these free ebooks; you can use free Kindle reading apps for iPad, iPhone, and Android devices, or use a computer or web browser.
Subscribe to The eBook Reader Blog to keep updated on future free ebooks posts, along with ebook reader news, reviews and how to guides.
Kindle Deals
Kindle eBooks: Top picks for your reading list sale – 3/8 only
Get 20% off When Buying 2 Kindles – (excludes Kindle Oasis)
Kindle Oasis 1 – $79.99 refurbished
Kindle Unlimited Gift Deal – 5-20% off
Amazon First Reads – Free Monthly eBook for Prime Members
10 Free Kindle eBooks
What Lies Beneath (Cassie McGraw Book 1) by David Archer
Mystery/Thriller, 4.6 stars, 86 reviews
Fresh out of high school and off to college, Cassie thought she had the world by its tail, and then she met Mike. Tall, handsome and a police detective to boot, he swept her off her feet and into a whirlwind relationship that led to an engagement ring. But things aren't always as they seem, and Cassie comes to discover that Mike has a dark side. When she learns just how dark it can be, she comes face-to-face with the greatest forward she could imagine, and it leaves her burned and scarred for the rest of her life…
Call of the Dragon by Jessica Drake, Jasmine Walt
Fantasy, 4.6 stars, 418 reviews
Zara Kenrook has a nose for treasure and a knack for trouble. With her business strapped for cash, the ex-thief reluctantly accepts a job stealing a priceless artifact. But when she nabs the wrong precious object, she ends up bonded to a baby dragon for life… Forced into the rider's academy by the dragon rider she tried to rob, she trains by day and looks for a way to reclaim her destiny by night. But when she discovers that her original mission may involve magical objects and a dark purpose, Zara vows to battle a nefarious destiny…
Mindtouch (The Dreamhealers Book 1) by M.C.A. Hogarth
Romance, 4.6 stars, 174 reviews
Seersana University is worlds-renowned for its xenopsychology program, producing the Alliance's finest therapists, psychiatric nurses and alien researchers. When Jahir, one of the rare and reclusive Eldritch espers, arrives on campus, he's unprepared for the challenges of a vast and multicultural society… but fortunately, second-year student Vasiht'h is willing to take him under his wing. Will the two win past their troubles and doubts and see the potential for a once-in-a-lifetime partnership?
Never Reply All: (Agent Bob Thriller 1) by Dan Friedman
Thriller, 4.7 stars, 28 reviews
Emily Turing receives a threatening email by mistake. She tries to learn who wants to get rid of her and why. She co-founded a successful startup in a male-dominated world, and she's torn between her loyalty to Jessica, her boss and co-founder, and Mike, her co-worker and new love. FBI Agent Bob Alexis's life crashes when he discovers Lisa, his wife, wants to leave him. He's married to his job. When he discovers she had an affair—it becomes unbearable, and he almost loses his mind. When Emily, Bob's neighbor, turns to him for help—it might be too late for both of them…
Prisoner (Criminals & Captives) by Skye Warren, Annika Martin
Romance, 4.4 stars, 649 reviews
He seethes with raw power the first time I see him–pure menace and rippling muscles in shackles. He's dangerous. He's wild. He's the most beautiful thing I've ever seen. So I hide behind my prim glasses and my book like I always do, because I have secrets too. Then he shows up in the prison writing class I have to teach, and he blows me away with his honesty. He tells me secrets in his stories, and it's getting harder to hide mine. I shiver when he gets too close, with only the cuffs and the bars and the guards holding him back. At night I can't stop thinking about him in his cell…
Tranquil Fury: The Anti-Matter Chronicles by P.G. Thomas
Fantasy, 4.3 stars, 120 reviews
It was just a normal school day…until the accident. However, when the four bus-mates wake, stranded on another world, with two of their friends injured, even stranger events begin to happen. Rescued by a lone traveler, who is a magic student, he takes them in search of elfin healers, but on that trip Lauren and Logan, fraternal twins, are adopted by divine benefactors, giving them both knowledge and powers. Eventually, they find themselves in the dwarven mine of the Ironhouse clan, and once there, the mysteries begin to unfold, including the biggest of them all; why would four-foot-tall dwarves forge a six-foot long sword?
undone (Burt Bigsley Mystery Book 1) by Jason Deas
Mystery, 4.5 stars, 33 reviews
Since Burt retired at fifty-two, he's been bored. After a chance encounter with a mugger he decides he might just be meant to save the world one crime at a time. And voilà, Burt's Private Investigations is born. Before he knows it, he's in deep and possibly over his head. He stumbles onto a dead body, which turns out to be the daughter of the town's country club owner who has rumblings of mob ties in his past. The clues lead him all over the North Georgia mountains, but the most intriguing ones lead to an end of the world compound and its charismatic leader…
Perfect Love Story (Love Series Book 1) by Natasha Madison
Romance, 4.5 stars, 262 reviews
Hailey
What do you do when you find out your whole life was a lie? That your husband really wasn't your husband but someone else's. That the vows you made to each other were simply empty promises. You pick up and move to the country to start fresh. When life hands you limes, you make sure you have tequila because your life is about to get stirred up.
Jensen
Married to my high school sweetheart, the best thing she gave me was my baby girl. But we weren't enough for her. I wasn't enough for her. The last thing I expected on my birthday was a Dear John letter, but that's what I got when she upped and left…
The Imaginary Friend by Kelly Hashway
Children's eBooks, 4.4 stars, 1505 reviews
Samantha and Tracy have been best friends since kindergarten, but now that Tracy has gotten over her shyness and made new friends, Samantha is feeling left out. This is nothing compared to how she feels when a strange girl named Jessica tells Samantha that she's actually an imaginary friend. Tracy has outgrown Samantha, and it's time for Samantha to help another child who needs her. But will Samantha be able to move on and fulfill her duty as an imaginary friend?
A Spy Came Home (A Mac Ambrose Novel Book 1) by HN Wake
Thriller, 4.3 stars, 96 reviews
Gritty, gutsy Mac Ambrose is a twenty-year veteran of the CIA with a penchant for risk-taking and a strong moral conscience. She is recruited by her closest friends to run a dangerous domestic operation: bring down the powerful gun lobby so the Senate can pass new legislation. In four weeks. From Washington's corridors of power, to Kentucky's rolling hills and New Orleans's wealthy suburbs, Mac baits the snares for a corrupt lawmaker, an unscrupulous lobbyist, and a crooked gun manufacturer. From a safe house in Philadelphia, she begins to rebuild the life–and to reconnoiter the love–forsaken years ago in the name of national security…