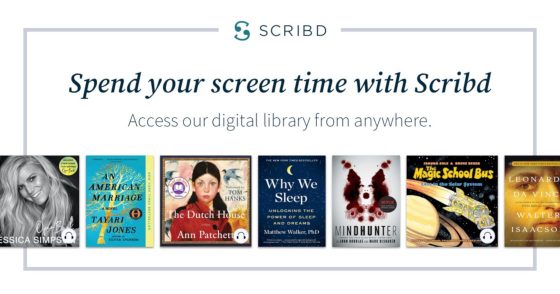 Scribd is a popular reading platform that charges $9.99 per month for unlimited access to a catalog of ebooks, audiobooks, magazines, and more. It's like Amazon's Kindle Unlimited except they have more popular titles from big publishers that don't participate in KU.
Scribd has rolled out a new promotion for the next month where new first-time subscribers can get access to Scribd's full catalog free for 30 days without a credit card or any commitment required.
Scribd normally offers a 30-day free trial anyway so that's nothing new, but that requires setting up an account where they will automatically start charging your credit card the regular $9.99 per month fee until you cancel.
With this new offer you can try Scribd for 30 days free without having to use a credit card or remember to cancel.
In fact the signup page says "Your Scribd access will end after 30 days unless you sign up for a paid account."
Here's more from their Twitter page:
"We're opening up access to Scribd's digital library free for the next 30-days through a special link. No credit card or subscription commitment required. Our goal is to be a resource and ensure everyone has access to quality content and information."
Note that the offer is available for first-time subscribers only and it expires on April 17th, 2020.
Amazon also has an ongoing promotion where new or returning subscribers can get 2 months of Kindle Unlimited access for free.
The only problem with Scribd is they don't support dedicated reading devices, which is rather odd for a reading platform. You have to use Scribd's Android or iOS app or read online with a browser.
If you have an Android-based ereader like a Boox or Likebook you can install the Scribd app. However, the last time I tried it the reading experience was far from ideal because they don't have any E Ink friendly fonts or themes so the text looks faded and washed out—not sure it that's changed since then.