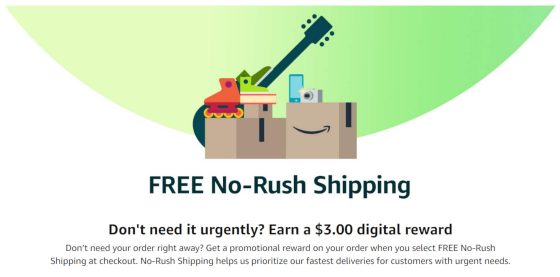 If you're an Amazon Prime member, you can really cash in on no-rush shipping credits right now while Amazon is offering a $3 digital reward credit for most items eligible for Prime shipping.
The digital credits can be used toward the purchase of things like Kindle ebooks, Amazon Appstore apps, Amazon music downloads, and Prime Video rentals and purchases.
Under normal circumstances the no-rush shipping credit is only $1, but now with the increased shipping volume Amazon has upped the no-rush shipping credit to $3.
The reward credits are a great way to get discounts on Kindle ebooks, especially the more expensive best-selling titles that never go on sale.
The reward credits are even offered on low-cost items. I placed an order for something that was $3.88 and I opted for the $3 credit because I don't need it right away.
From my experience the slower shipping option only adds a few extra days to the delivery date, sometimes it's only one extra day.
In the fine print Amazon says the credit can only be used on "eligible" Kindle ebooks. I don't know what constitutes an "eligible" book, but the credit works on every ebook I've tried, even from big publishers that never discount certain books.
The no-rush shipping credits don't last indefinitely, however, so you have to remember to use them before they expire. You can check your reward balance and expiration dates on Amazon's Rewards Summary page.