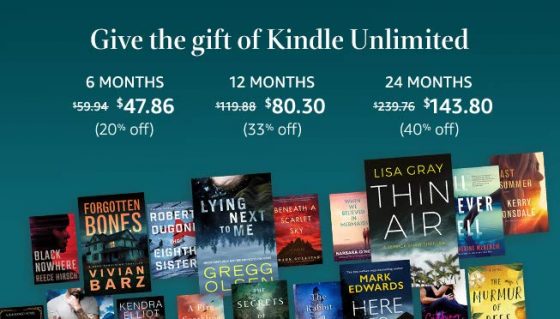 Amazon has put their Kindle Unlimited plans on sale for new and current members, with savings up to 40% off the regular monthly price of $9.99.
The Kindle Unlimited deal discount varies according to the duration of the membership term that you choose. The longer the term the more you save.
Here's how the deal breaks down:
6 months – $47.86 (20% off)
12 months – $80.30 (33% off)
24 months – $143.80 (40% off)
Amazon calls it a "gift" deal, but you can apply the deal to a current subscription on your own account as well, and it will extend the term of your current subscription.
There's also a separate offer where you can get 2 months of Kindle Unlimited for Free. That deal is valid until the end of April, but it's not available for current members, just new and returning subscribers.
Kindle Unlimited, Amazon's ebook subscription service, provides access to a catalog of over 1 million ebooks, as well as a selection of comics, magazines, audiobooks, and comic books.
Members get unlimited access to the full selection of available titles, and you can have up to 10 titles downloaded at one time. You can access the content using a Kindle app, a Kindle or Fire device, and with the cloud reader online.