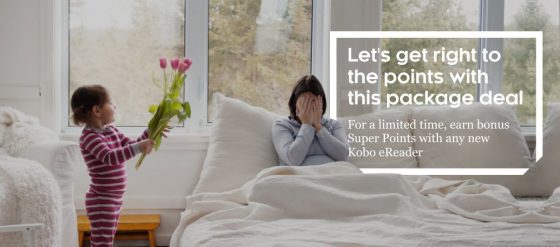 Kobo has started a new promotion when buying a new Kobo ebook reader where you can get bonus Super Points—up to 16,000—that can be used to purchase ebooks and audiobooks.
The amount of Super Points earned varies depending on which device you purchase; the more the device costs the more points you get.
There are some stipulations, of course. First off, the Kobo ereader has to be purchased from Kobo's website.
Second, the device has to be purchased before the end of April (which is a bit odd considering Mother's Day isn't until May 10th).
Lastly, the device must be activated within 3 months of purchase to claim the Super Points, and then the Super Points will appear in the account used to activate the device within 7-10 days.
The deal is being advertised on Kobo's US website and their Canadian website.
The way the deal works is you get 8,000 – 16,000 Super Points depending on which Kobo model you purchase (the deal does not include refurbished Kobos or the recently relisted Kobo Aura One).
The Super Points can then be used to buy ebooks and audiobooks from Kobo.
The deal breaks down like this:
Kobo Forma – 16,000 Super Points
Kobo Libra H2O – 12,000 Super Points
Kobo Clara HD – 8,000 Super Points
Kobo has offered similar deals in the past, but the Super Points bonus is higher this time around.
Here's the link to the page with eligible titles for Super Points to get an idea of what books and audiobooks you can get with the number of points being offered. A minimum of 2,400 points is required to make a purchase.