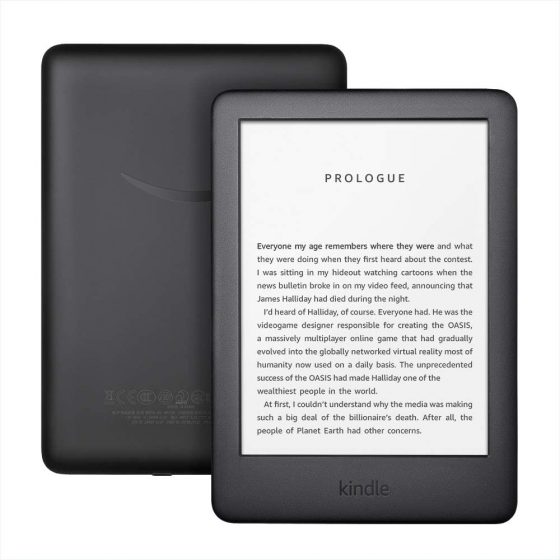 Here's a roundup of free Kindle ebooks for the weekend, along with some Kindle deals.
Amazon still has the entry-level Kindle and Kindle Paperwhite on sale, and Kindle Unlimited gift subscriptions are 20-40% off.
Please note the free Kindle books listed below are free as of May 8th, 2020. Most of these titles are free for a limited time only and will expire in the next few days or hours before going back to the regular list price.
A good place to find more free Kindle books is on the free bestsellers list at Amazon.
You don't need to own a Kindle ebook reader or a Fire tablet to read these free ebooks; you can use free Kindle reading apps for iPad, iPhone, and Android devices, or use a computer or web browser.
Subscribe to The eBook Reader Blog to keep updated on future free ebooks posts, along with ebook reader news, reviews and how to guides.
In addition to the list below, Amazon has this list of 55 Free Classics available.
Kindle Deals
Kindle – $64.99
Kids Kindle – $84.99
Kindle Paperwhite 8GB – $94.99 (black) $99.99 (blue)
Kindle Paperwhite 32GB – $119.99 (black) $124.99 (blue)
Fire 7 Tablet – $39.99
Fire HD 8 Tablet – $59.99
Fire HD 10 Tablet – $109.99
20-40% off Kindle Unlimited Membership
Get 2 months of Kindle Unlimited for Free – New and returning subscribers
Amazon First Reads – Free Monthly eBook for Prime Members
10 Free Kindle eBooks
Dragon Storm by Lindsay Buroker
Fantasy, 4.6 stars, 304 reviews
Telryn "Trip" Yert has always been a little odd, with hunches that are too accurate to explain. Magic is feared and forbidden in Iskandia, so he's struggled his whole life to hide his eccentricities. As a boy, he was forced to watch his mother's execution. Her crime? Witchcraft. Understandably, Trip wants nothing to do with the power that lurks within him, always threatening to reveal itself. Instead, he dedicates himself to serving as an officer in the king's army, to battling pirates and imperial conquerors. He longs to become a soldier as respected and renowned as the legendary General Zirkander…
Rose of Anzio by Alexa Kang
Historical Fiction, 4.4 stars, 68 reviews
Summer 1940. Fourteen-year-old Tessa Graham finds herself in a new, unfamiliar world. For her safety, she is sent from England to Chicago to live with the prominent Ardley family just before the London Blitz. Stifled by the ways of the rich, she is soon drawn to the city's infamous South Side. A world filled with jitterbug dancing and intrigues of the powerful Irish community. But is this the escape she really wants? On the University of Chicago campus, eighteen-year-old Anthony Ardley has to make a choice. His country stands at the brink of war…
Stateless by Meli Raine
Romantic Suspense, 4.8 stars, 91 reviews
When you're born without a trace, no one knows you're a weapon. I lie for her. I hunt for her. I kill for her. And above all, I betray my mission for her. She doesn't know why. She doesn't care why. I do. Treason comes in many forms. Love is one of them. Our training taught me to be a sociopath. A machine. A pawn. Nothing more than a tool for a larger goal, without attachments or feelings. Our teachers forgot one important detail: Pawns shouldn't have hearts. Yet we do. It turns out our emotions are our greatest weapon. And I know exactly where mine are aimed.
The Ghost of Tobacco Road by Dale Young
Horror, 4.4 stars, 111 reviews
On the banks of the Skeleton River, in a remote part of North Carolina, lies the town of Starlight. Like many small towns in America, Starlight has seen better days. Once known for its tobacco fields and rural Southern charm, the stores on Main Street are now boarded up, and many of the residents have left town for good. Logan Shaw, a down-and-out used-car salesman living in Wilmington is convinced that the letter he has received from a small law firm in Starlight has to be a mistake. The letter names him as the sole beneficiary in the last will and testament of one of Starlight's residents, a reclusive old woman recently found dead in her home on the outskirts of town…
The Traveller's Stone by S. J. Howland
Fantasy, 4.7 stars, 46 reviews
Xander King does not believe in fairytales. He prefers rational explanations, keeping his head down and trying to avoid the inevitable comparisons with his genius mother. The last thing he expects is to have his life turned upside down by terrifying shadows and an encounter with a mysterious stone tablet, challenging his entire view of reality and catapulting him into the parallel world of Haven. Faced with extraordinary creatures, ancient secrets and a heritage he does not understand, Xander is drawn into the struggle to protect the border between his own reality and Haven, and prevent disaster overcoming them both. But, as darkness spreads, he must confront new questions. Where does he belong, and is anything in Haven really as it seems?
At Wits' End by Kirsten Weiss
Mystery, 4.5 stars, 97 reviews
When control-freak Susan Witsend inherits her grandmother's UFO-themed B&B, she's ready to put her organizational skills to the test. She knows she can make the B&B work, even if there is a faux-UFO in the roof. After all, what's not to love about a Victorian nestled in the high Sierra foothills? None of her carefully crafted policies and procedures, however, can prepare her for a corpse in room seven – the body of her small-town sheriff's ex-husband. Good thing Susan has her own plans to solve the crime…
Finding Home by Jackie Weger
Romance, 4.3 stars, 884 reviews
Twenty-four-year old Phoebe Hawley is on a quest to find her family a home. On the road with two siblings, twelve-year-old Maydean and five-year-old Willie-Boy, Phoebe is out of money, out of gas, and out of patience. The only things she owns in abundance are backbone and pride–neither of which she can trade for food or gas. A collision with Gage Morgan puts Phoebe's mission in even worse jeopardy–until Phoebe discovers Gage owns the perfect place for her clan. However, she soon discovers that Gage is the unlikeliest man in the universe to offer a helping hand…
Tipping Point by Terry Tyler
Science Fiction, 4.6 stars, 111 reviews
Year 2024. New social networking site Private Life bursts onto the scene. Across the world, a record number of users sign up. A deadly virus is discovered in a little known African province, and it's spreading—fast. The UK announces a countrywide vaccination programme. Members of underground group Unicorn believe the disease to be man-made – and that Private Life might not be as private as it claims. Vicky Keating's boyfriend, Dex, is working for Unicorn over two hundred miles away when the first UK outbreak is detected in her home town of Shipden, on the Norfolk coast…
Sniper's Nest by C.M. Sutter
Thriller, 4.4 stars, 548 reviews
The ambush is in place, he takes aim, and shots ring out. Chicago is officially on notice, and a siege is underway on the city's men and women in blue. Assigned to the task force investigating the shootings, Jesse McCord and twenty of Chicago's top-notch detectives work day and night to track down the sniper whose agenda is apparent—to kill as many police officers as possible. Getting in front of the crazed assailant is the only way to stop him, but without a name, a face, or a witness to the shootings, the police department is chasing a ghost…
Sisters (Sun Valley Series, Book 1) by Kellie Coates Gilbert
Fiction, 4.5 stars, 362 reviews
Karyn Macadam is starting over after losing her husband to a skiing accident. A chance encounter with a backcountry pilot might be this young widow's one shot at a new beginning, but only if she can let go of the past. Leigh Ann Blackburn is the perfect wife, until her husband grows more distant and she believes the worst. An outrageous plan to save her marriage turns the situation on its head and she soon learns not everything is as it seems. Joie Abbott, who always finds a way to mess up her life, has done it yet again. This time a bitter betrayal threatens to expose a heartache she desperately wants to keep secret, especially from her family.