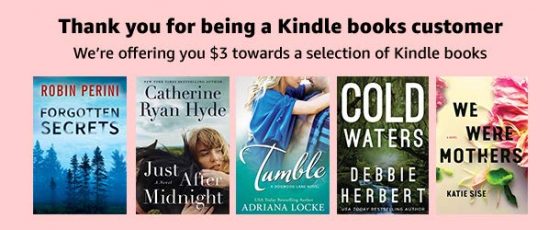 It's time for another roundup of 10 free highly-rated Kindle ebooks and Kindle deals for the weekend.
Unfortunately there aren't many Kindle deals ongoing at the moment, other than a couple of refurbished Kindles for $79, but on the plus side the Kindle Paperwhite 4 is finally back in stock.
Please note the free Kindle books listed below are free as of June 6th, 2020. Most of these titles are free for a limited time only and will expire in the next few days or hours before going back to the regular list price.
A good place to find more free Kindle books is on the free bestsellers list at Amazon.
You don't need to own a Kindle ebook reader or a Fire tablet to read these free ebooks; you can use free Kindle reading apps for iPad, iPhone, and Android devices, or use a computer or web browser.
Subscribe to The eBook Reader Blog to keep updated on future free ebooks posts, along with ebook reader news, reviews and how to guides.
Kindle Deals
$3 eBook credit towards a selection of Kindle books – Deal ends June 30th
4-Months Audible Gold Digital Membership – $7.95 per month; Deal ends June 15th; New members only
20-40% off Kindle Unlimited Membership
Get 2 months of Kindle Unlimited for Free – New and returning subscribers
Kindle Voyage – $79.99 refurbished
Kindle Paperwhite 3 – $79.99 refurbished
Amazon First Reads – Free Monthly eBook for Prime Members
10 Free Kindle eBooks
Between Mountain and Sea by Louisa Locke
Science Fiction, 4.6 stars, 79 reviews
Mei Lin Yu should have been looking forward to the next stage in her life. As a descendant of one of the Founding Families who led the exodus from a dying Earth and now rule New Eden, Mei's choices are endless. But she has never felt part of the Yu Family or the world of technological marvels and genetic perfection the Founders created. All that will change the summer she spends at Mynyddamore, the home her ancestor Mabel Yu built in western Caelestis. Here, living among the Ddaerans, the original inhabitants of New Eden, Mei will discover secrets about Mabel Yu that her family want to keep buried and a truth about herself that will forever change her own destiny.
The Frost Eater by Carol Beth Anderson
Fantasy, 4.6 stars, 65 reviews
Seventeen-year-old Princess Nora is a frost eater who creates magical ice. Her royal life is luxurious but stifling. Krey West has a rare magical talent: when he eats feathers, he can fly. His one goal is to find his missing girlfriend, Zeisha. He thinks someone in power abducted her. Krey's daring feats of magic earn him an invitation to the palace. Craving adventure and friendship, Nora offers to help him find Zeisha. He's desperate enough to accept—though he hates the monarchy. The truth is more terrible than they could imagine…
If Krey and Nora can't save her, Zeisha may lose herself forever.
See You Soon by NC Marshall
Thriller, 4.4 stars, 460 reviews
When Emily receives an email from her estranged childhood friend, Ali, she instantly looks forward to reading what it has to say. She hasn't seen or heard from Ali in a very long time and hopes that they can begin to rekindle the perfect friendship they once had. But when Emily opens the email, she finds it isn't the friendly message she had hoped for. Instead, it is a desperate plea for help from Ali to tell Emily she could be in danger. Growing increasingly concerned for Ali's safety, Emily is forced to return to the seaside town where she and Ali had grown up. The same town that she had fled from over fifteen years ago, when she had sworn she would never return…
Homecoming by Carolyne Aarsen
Romance, 4.6 stars, 353 reviews
Sheryl Kyle isn't the trusting type. After all, her abusive late husband and her disapproving stepfather haven't given her much reason to feel otherwise. But when a rugged rancher named Mark seeks her out she learns her stepfather is on his deathbed. And his dying wish is for her to return to Sweet Creek for one last chance to reconcile… Mark can't help but be fascinated by Sheryl. Despite hearing the worst about her from her stepbrother, he's drawn to the hauntingly beautiful woman. When his ranching partner suffers an injury at the worst possible time, he's surprised and delighted that Sheryl agrees to work by his side…
Sound of Fear by Levi Fuller
Mystery/Thriller, 4.9 stars, 22 reviews
There's a thirsty murderer stalking in the darkness… and it knows your fears. Recently joined the force, Detective Violet Turner finds herself in the craziest situation, she thinks she can escape the craziness of a sleepy town, but she now finds herself in the action against the monster. She can see your fears. She's spent years honing her craft. This is no ordinary killer; she seems to stalk her prey. More importantly Violet can't shake this feeling, that this killer can sense fear, and uses it against the victims…
Hunted by Shadows by Erin O'Kane
Fantasy/Romance, 4.5 stars, 193 reviews
They say not to jump at shadows. That's all well and good, but what if you are being hunted by one? Trying to escape her past, Ari is working to atone for her actions and have a normal human life. The only problem with that? She isn't human. Unlike most werewolves, she avoids as much contact with the supernatural world as possible, building a life for herself in the human world. Until one day her past catches up with her, and she is forced to immerse herself in the supernatural world. Offered protection from the local wolf pack, she is forced to accept it, but nothing in the supernatural world comes for free…
Sign Off by Patricia McLinn
Mystery, 4.4 stars, 1795 reviews
TV journalist Elizabeth "E.M." Danniher will tell you she committed two sins — she didn't stay young, and she made an enemy of a powerful news executive — her ex. She used to break national news. Now her top story as the "Helping Out!" reporter at dinky KWMT-TV in Sherman, Wyoming is getting a defective toaster repaired. Tough, funny and determined, Elizabeth wrestles with isolation, keeping a professional edge, and an evolving self-image. Is Wyoming — the land of cattle, cowboys, tumbleweeds, and fewer than six people per square mile — her new home or a road to permanent obscurity?
Breaking Destiny by Mitty Walters
Science Fiction, 4.8 stars, 51 reviews
When her discovery makes headlines around the world, Dr. Yoonie Brandt becomes an instant celebrity. But her study is soon attacked and ferociously discredited. The headlines vanish overnight. So, too, does the young geneticist. Three years later, wealthy businessman Joe Kettleman is on the run from a wife who wants him dead, detectives who want him for a double homicide, and a tumor that wants him for an early grave. Badly wounded and out of options, he slips away to a remote cabin in New Mexico. When supplies dwindle, Joe is forced to take a perilous journey through the deserts of the Bisti Badlands. Two days into what was supposed to be a five day trek, he comes across a town…
Rising Tide: Dark Innocence by Claudette Melanson
Romance/Suspense, 4.6 stars, 208 reviews
Could Maura's life get any worse? …turns out it most certainly can. Isolated and sheltered by her lonely mother, Maura's never been able to make friends. She seems to drive her classmates away—except for the odd times they pay enough attention to torture her—but she doesn't understand why. Maura considers herself to be a freak of nature, with her unusually pale skin and an aversion to the sun that renders her violently nauseous. Her belief is only worsened by the fact that almost everyone around her keeps their distance…
Ava the Monster Slayer by Lisa Maggiore
Children's eBooks, 4.8 stars, 39 reviews
Don't underestimate Ava just because she's "cute" and wears "adorable glasses"—she's really a fierce monster slayer. And when her beloved Piggy is left in the dryer in the basement, Ava knows she'll have to face the ferocious monsters lurking in the dark if she wants to rescue her favorite stuffed animal. So she puts on her brother's superhero cape, grips his sword tight, puts on her pink rain boots and sparkly princess crown, and creeps downstairs…