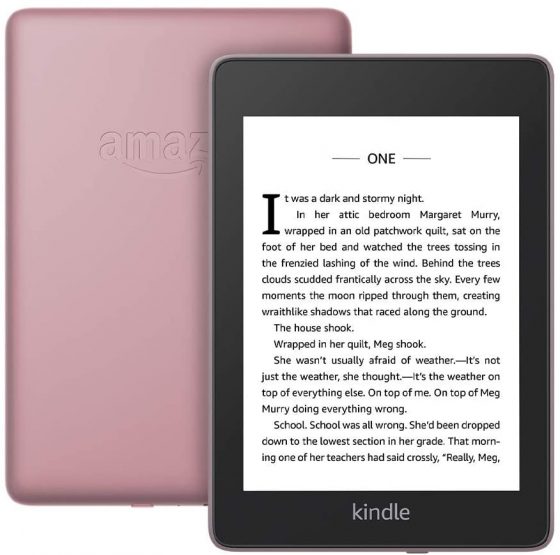 Here's a roundup of 10 free highly-rated Kindle ebooks and Kindle deals for the weekend.
Amazon still has the Kindle and Kindle Paperwhite on sale too, but that will probably end soon with Father's Day on Sunday.
Please note the free Kindle books listed below are free as of June 20th, 2020. Most of these titles are free for a limited time only and will expire in the next few days or hours before going back to the regular list price.
A good place to find more free Kindle books is on the free bestsellers list at Amazon.
You don't need to own a Kindle ebook reader or a Fire tablet to read these free ebooks; you can use free Kindle reading apps for iPad, iPhone, and Android devices, or use a computer or web browser.
Subscribe to The eBook Reader Blog to keep updated on future free ebooks posts, along with ebook reader news, reviews and how to guides.
Kindle Deals
Kindle – $64.99
Kindle Paperwhite – $99.99
$3 eBook credit towards a selection of Kindle books – Deal ends June 30th
4-Months Audible Gold Digital Membership – $7.95 per month; Deal ends June 30th; New members only
20-40% off Kindle Unlimited Membership
Get 2 months of Kindle Unlimited for Free – New and returning subscribers
Kindle Paperwhite 3 – $79.99 refurbished
Amazon First Reads – Free Monthly eBook for Prime Members
10 Free Kindle eBooks
Destiny's A Witch by Lucy May
Mystery, 4.4 stars, 99 reviews
Welcome to Charm Cove, Maine – where the Good are Wicked, and the Wicked are Good… or maybe not. Nothing is ever as it seems, at least not in Charm Cove, Maine. Moira Wicked—yes, that's actually her name—moves away in the hopes she can escape her fate, or destiny, or something along those lines. She yearns to lead a normal life. A few years away teaches her one glaring lesson. It's incredibly difficult to be normal when your first name means destiny, your last name is Wicked, and you actually do come from a family legendary for its witchy ways…
Chasing Rain by Brandt Legg
Thriller, 4.7 stars, 54 reviews
He created it.
They will kill for it.
She must stop it.
The chase is on!
A tech billionaire on the run. His AI breakthrough, twenty years ahead of its time, has the CIA, Chinese MSS, and the most powerful corporations in the world after him. Teamed with a beautiful ex-spy, they must find a way to destroy his invention before it destroys us all!
The Chase (Briar U Book 1) by Elle Kennedy
Romance, 4.4 stars, 719 reviews
Everyone says opposites attract. And they must be right, because there's no logical reason why I'm so drawn to Colin Fitzgerald. I don't usually go for tattoo-covered, video-gaming, hockey-playing nerd-jocks who think I'm flighty and superficial. His narrow view of me is the first strike against him. It doesn't help that he's buddy-buddy with my brother. And that his best friend has a crush on me. And that I just moved in with them. Oh, did I not mention we're roommates?
Rift (The Resistance Book One) by Nathan Hystad
Science Fiction, 4.4 stars, 110 reviews
The Earth Fleet has known of the Watchers for years, unwilling to share the knowledge with humanity. Now it might be too late. Hidden away from the Fleet, one man is creating a new colony ship destined for the other side of the Rift, but he's missing a few pieces. Three other people have varied paths to get there. Ace goes from the streets of Earth to the Fleet training facility on the moon. Flint, an ex-Fleet pilot, must decide if a job is worth his life, and Wren, imprisoned for a secret project years ago, is given hope as an unlikely ally whispers words of escape in her ear…
Keeping 6 (Rock Point Book 1) by Freya Barker
Mystery Romance, 4.4 stars, 154 reviews
Bookstore owner Kerry Emerson finally seems to be back in control of her life. Her failure of a marriage firmly in her rearview mirror and her recent business expansion a success, she is in charge of her own future. One that is looking better than ever. The sight of the tall man, with the familiar salt and pepper goatee pushing open the door of her store, sets her hair on end. He doesn't exactly bring good memories. FBI Special Agent in Charge Damian Gomez is just looking for a decent cup of coffee when he walks into the small store offering books and brew. The pretty, feisty woman behind the counter is an unexpected surprise…
Another One by Tony Faggioli
Suspense/Thriller, 4.4 stars, 52 reviews
Detective Evan Parker is being haunted by the past. After two tours in the Afghanistan War, he thought the horrors that he witnessed there were behind him. But the death of his partner has now opened a dark hole of memories that are threatening to swallow Parker alive. Desperate to maintain his grip, he focuses on the last unsolved case his partner left behind: the brutal murder of Hymie Villarosa. Father Bernardino Soltera is being destroyed by the present. After ministering to the gang ridden streets of East L.A. for over twenty years, he's unable to see past the pain and suffering that drugs and violence have wreaked on his neighborhood; he's ready to give up…
Crescent Calling by Nicole R Taylor
Fantasy, 4.4 stars, 234 reviews
When Skye Williams receives news of her estranged mother's death, she must go to Ireland to claim her inheritance. But when she arrives in the tiny village of Derrydun, she isn't prepared for what she finds nestled amongst the rolling hills of the Emerald Isle. Lumped with her mother's crystal shop, a moody goth girl for an employee, and a crumbling cottage, selling up sounds like a great plan…until she sees the hot Irishman she's been crushing on turn into a fox. Thrust into a world she never knew existed, Skye discovers she's a witch, like her mother before her, but it comes with a heavy price. She is the last of her coven, the Crescent Witches, and is on her own with a terrible burden…
The Problem with Pugs by A.G. Henley
Romantic Comedy, 4.5 stars, 218 reviews
Amelia's boyfriend Tim broke up with her three months, thirteen days, and eleven hours ago, but at least he left her their baby, Doug the pug. Doug eats Amelia's underwear, mutilates furniture, and always poops in the middle of the sidewalk—but he only has eyes for her. When Amelia reluctantly wades back into the dating pool, meets a new guy, and has to pay his medical bill after Doug launches a sneak attack on him, she realizes she has a problem. She's determined to do everything she can to help her dog adjust to life without Tim, even recruiting handsome Travis, Doug's new veterinarian, who's willing to assist her at risk of life and limb…
Déjà Dead by Susan Kiernan-Lewis
Mystery, 4.5 stars, 44 reviews
Things can get pretty dark in the City of Light Claire Baskerville is a sixty-something American who finds herself alone in Paris when her husband is brutally murdered. Reeling from the onslaught of devastating secrets he left behind Claire is stunned to realize she no longer knows who to trust. She only knows she can't move forward until she finds out the truth behind who killed her husband. In spite of a genetic brain anomaly that makes it impossible for her to remember faces –even ones she'd seen just moments before, and all alone in a foreign city, Claire doggedly collects the clues that will lead her to her husband's killer…
Passage at Delphi by A.K. Patch
Historical Mystery, 4.8 stars, 49 reviews
From his vantage-point far ahead, a mysterious taskmaster with foreknowledge of a life-changing attack on the United States triggers a desperate mission to prevent it. He chooses a pair of history professors as allies, but they're no random selection. This couple are mentioned in the "Book of Histories", and yet, the record is incomplete as to exactly how the massive attack had been be carried out. Plotters and traitors must be exposed and countered. To test their abilities, the taskmaster tosses Lauren and Zack Fletcher into an ancient war to navigate treacherous routes of survival, skills that will be useful when the fateful day arrives. But, can they make it home, and who will survive the irreversible threat when it finally dawns?