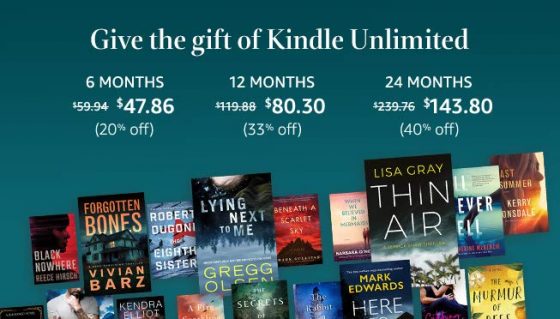 Here's a list of 10 free highly-rated Kindle ebooks and Kindle-related deals for the holiday weekend.
Amazon still has the Kids Kindle bundle, which can also be used as a regular Kindle for adults, on sale for $79 and Kindle Unlimited subscriptions are still available at up to 40% off.
Please note the free Kindle books listed below are free as of July 4th, 2020. Most of these titles are free for a limited time only and will expire in the next few days or hours before going back to the regular list price.
A good place to find more free Kindle books is on the free bestsellers list at Amazon.
You don't need to own a Kindle ebook reader or a Fire tablet to read these free ebooks; you can use free Kindle reading apps for iPad, iPhone, and Android devices, or use a computer or web browser.
Subscribe to The eBook Reader Blog to keep updated on future free ebooks posts, along with ebook reader news, reviews and how to guides.
Kindle Deals
Kids Kindle – $79.99
Top Kindle eBooks Under $5 – Ends July 5th
Kids Fire Tablets – up to $50 off
20-40% off Kindle Unlimited Membership
Get 2 months of Kindle Unlimited for Free – New and returning subscribers
Amazon First Reads – Free Monthly eBook for Prime Members, 2 Free for July
10 Free Kindle eBooks
The Reluctant Coroner by Paul Austin Ardoin
Mystery, 4.5 stars, 81 reviews
Blood is thicker than oil–until murder is involved. Fenway Stevenson doesn't want to return to the coastal town where her estranged father is practically king. But the death of her mother draws her back home–and the murder of the county coroner draws her into a deepening conspiracy. As the body count rises and all signs seem to point toward her father's oil company, will Fenway uncover the truth before family bonds become deadly?
Turing Test (AI Diaries SciFi Trilogy Book 1) by E. M. Foner
Science Fiction, 4.7 stars, 170 reviews
Alien AI is here to save Earth (and make a few bucks on the side). Mark Ai goes to work every day as a PC repairman, but fixing computers is just a cover job. Along with his mission managing the observation team, he's attempting to fill in as a parent for a teenage neighbor, provide a good home for a dog, and pick up a little money on the side. It's a juggling act that understandably leads to breaking a few rules, but things really start spinning out of control when competing aliens arrive.
Boston Homicide by John C. Dalglish
Suspense, 4.4 stars, 500 reviews
Officer Danny Sullivan has just become Detective Danny Sullivan, the first in a family line of Boston Police officers to do so. It's a milestone the whole family can celebrate. But quickly, his new position turns into something more than he ever anticipated. His first case with a new partner throws him into a web of secrets, half-truths, and dead women. The conclusion he draws puts him at odds with everyone in his life, and the young detective must decide whether to risk everything to prove his theory that more women are about to die. Will he save lives or end his career?
A Beauty for the Scarred Duke by Bridget Barton
Historical Romance, 4.4 stars, 673 reviews
As young girls, Lady Isabella Tate, daughter of the Earl of Upperton, and her friend, Esme, told each other terrifying tales of the monster. But not just any monster. This monster was alive and living in his old mansion behind a tangle of overgrown hawthorn trees in the very same county. This monster was none other than Elliot Covington, the Duke of Coldwell. The Duke of Coldwell, scarred for life in a fire which claimed the lives of those dearest to him has been hiding in his mansion for almost eighteen years. He knows he is a figure of fear and speculation in the county and chose many years before to live a life of self-imposed isolation. But he is the loneliest Duke in all of England…
Dawn of Dreams by Bronwyn Leroux
Fantasy, 4.5 stars, 40 reviews
In 2073, Jaden and Kayla become friends and realize they can both see a terrifying creature that's invisible to everyone else. Bonded by magic, they investigate their bizarre connection and learn their lives are built on lies, and that reality bends in many directions… Determined to uncover the truth, they set out on an epic quest. But a malevolent force pursues them relentlessly, stopping at nothing to end their journey. Can Jaden and Kayla unravel the mysteries of the past and ensure the earth has a future, or will their world be forever cursed?
Shaded Light: The Case of the Tactless Trophy Wife by J. A. Menzies
Mystery, 4.3 stars, 144 reviews
Jacqueline Ryan knew her promotion to Homicide would rankle some feathers. The detective constable worries that the rest of the force won't be able to see past the colour of her skin. And she's not about to let her new, overbearing partner stand in her way… No-nonsense Inspector Paul Manziuk needs a vacation, not a murder case with an overeager newbie. But when a body is found at a ritzy Toronto house party, the new partners have no choice but to put aside their differences. After all, in a house full of smooth-talking lawyers, catty wives, and eccentric guests, anyone could have committed the foul deed…
Wishful Romance Books 1-3 by Kait Nolan
Romance, 4.5 stars, 248 reviews
Wishful, MS is Cam's hometown. He's not sure a city girl like Norah can understand the place well enough to help him save it from the corporate big-box store threatening to set up shop. She's determined, though. She's falling hard for the charms of town–and the man. But even if they send the suits packing, can she really give up her corner office for a corner booth a the local diner?
Hunting The Midnight Shark by Conrad Brasso
Thriller/Suspense, 4.5 stars, 63 reviews
He made a quick adjustment and slowly exhaled while tightening the squeeze on the trigger. The bullet tore through half a mile even before the ejected shell casing hit the ground. For some, death was a disturbing and haunting reality. For others, it was something never witnessed or spoken of. For Trey Stone, the death of his target meant many others would live. He had no problem falling asleep that night to the humming engines of the CIA yacht … until a phone call spun his life around and threw him into a dark and very personal war…
What She Inherits by Diane V. Mulligan
Fantasy, 4.5 stars, 276 reviews
When Angela Ellis returns to her childhood home on St. Nabor Island, South Carolina, her junior year of college interrupted indefinitely by her mother's death, she doesn't know how she'll ever be able to function in the world without her mother's love, support, and guidance. Soon after her mother's funeral, strange sounds begin to trouble her in the night, sounds she swears are her mother's angry voice. In an effort to find peace for herself and for her mother's restless spirit, Angela begins a ghost hunt that makes her friends fear for her sanity and that leads her to more questions than answers. Her parents, it turns out, were extraordinary secret keepers, and now Angela is on her own to discover the truth…
Muse in Lingerie by Penelope Sky
Romance, 4.7 stars, 335 reviews
My brother got mixed up with a crime lord and lost everything he had, including his life. And now I have to pay his debt. All I have is twenty bucks in my pocket and the clothes on my back. The bank took the house, and my last living relative was murdered. Knuckles threatened to torture me if I ran. He's counting down the days until he'll claim me…making me treasure my final days of freedom. But I'm not going to wait around. I'm running like hell. To Milan. The greatest lingerie designer in the world is looking for new talent for Barsetti Lingerie. I'm not exactly model material, but maybe I can get a job doing something…and get paid under the table…