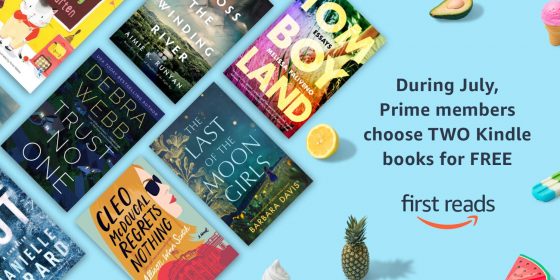 It's time for another roundup of 10 free Kindle ebooks for the weekend, along with a few Kindle deals.
Amazon is running a Summer Reading Sweepstakes promotion through the end of July where you can win a Kindle Oasis simply by reading. See the promo page for more details.
Since there is no Prime Day this July, Amazon should at least put Kindles on sale again, but that hasn't happened yet. Maybe tomorrow…
Please note the free Kindle books listed below are free as of July 18th, 2020. Most of these titles are free for a limited time only and will expire in the next few days or hours before going back to the regular list price.
A good place to find more free Kindle books is on the free bestsellers list at Amazon.
You don't need to own a Kindle ebook reader or a Fire tablet to read these free ebooks; you can use free Kindle reading apps for iPad, iPhone, and Android devices, or use a computer or web browser.
Subscribe to The eBook Reader Blog to keep updated on future free ebooks posts, along with ebook reader news, reviews and how to guides.
Kindle Deals
20-40% off Kindle Unlimited Membership
Get 2 months of Kindle Unlimited for Free – New and returning subscribers
Get 20% off New Kindle with Trade-in
Summer Reading Sweepstakes – Win a Kindle Oasis
Amazon First Reads – Free Monthly eBook for Prime Members, 2 Free for July
10 Free Kindle eBooks
Bound by Earth by Quinn Loftis
Fantasy/Romance, 4.8 stars, 123 reviews
Tara Thompson cannot be injured. Since the night her parents died in a tragic accident, she hasn't felt pain of any kind, not so much as a papercut. And she has no idea why. Though her body healed quickly, her heart and soul took its time. Luckily, a loving foster mom and an unwanted best friend stepped in to speed up the process. Despite Tara's best efforts, her new BFF, Shelly Smith, just wouldn't go away. By their senior year, the girls were thick as thieves and would probably become thieves if Shelly had anything to say about their future…
Of Sea and Shadow by Will Wight
Fantasy, 4.7 stars, 176 reviews
The Guild of Navigators has ruled the Aion Sea for centuries, using their fleet of mystical ships to collect trade for the Aurelian Empire. Now the Emperor is dead. For Calder Marten, Captain of The Testament, the Emperor's death is not an end, but an opportunity. He and his crew seek the legendary Heart of Nakothi, an artifact that could raise a second Emperor…and earn Calder a fortune. But they're not the only ones who want the Heart. The Consultant's Guild, an ancient order of spies and assassins, will stop at nothing to keep the world in chaos. They seek to destroy the Heart, and prevent the world from uniting under a single Emperor ever again…
Letters to Molly by Devney Perry
Romance, 4.8 stars, 363 reviews
Molly Alcott didn't expect to open her mailbox one summer morning and find an old letter stuffed between bills and a supermarket flyer. Penned in familiar handwriting, dated over fifteen years ago, the letter was written to Molly after her first date with the man she'll never forget. Week after week, new letters appear. Each marks an event in the history of their epic love affair. Each heals a wound. Each holds the confession of the man who still owns Molly's heart. The letters are full of promise, hope and love, but truth be told, Molly wishes she could unread them all…
Confrontation (Baldwin's Legacy Book 1) by Nathan Hystad
Science Fiction, 4.3 stars, 88 reviews
Thomas Baldwin has been appointed captain of the state-of-the-art cruise ship Constantine, named after his heroic grandfather. When their first diplomatic mission turns deadly, all signs point to the return of a former adversary, one the Concord claims to have defeated five decades earlier. No one has seen Baldwin's commander, Treena Starling, since her previous ship was destroyed in a gruesome battle, leaving her the sole survivor. Can her secret help them rescue one of their crew members from captivity at the enemy's hands?
Snow Cold Case by M.Z. Andrews
Mystery, 4.6 stars, 159 reviews
Meet reclusive mystery writer, Johanna Hughes, and Rockland Gable Hughes, aka Rocky, JoJo's trusty English Mastiff, loyal companion, and roommate. On a walk, just a little more than a week before Christmas, Rocky and Johanna are lured into an antique shop by an enchanting grey cat. Inside, they stumble upon a mystic snow globe hidden amongst all the antiques. Johanna is mesmerized by the gorgeous wedding gown inside the globe and the beautiful girl, sitting at her sewing desk. Little does she know the mystic snow globe will get her tangled up in a world of mystery she never could have imagined…
Drunk on a Plane by Zane Mitchell
Adventure, 4.4 stars, 502 reviews
So, I'm Drunk. Daniel T. Drunk, Jr. if you really wanna know. And I'm on a plane headed to Paradise Isle on the trip of a lifetime. The occasion? My honeymoon. Except, there's only one problem. I'm riding solo. It's a really long story, and if you don't mind, I'd prefer to leave it at that. Really? You must know? Fine, I get it. You're the nosey type. Here's the abbreviated version. I came within an inch of marrying a cheating slut. There. Get the picture? Good. But that's not what this story is about. This story is about what happened after I got to Paradise and a dead body showed up in my motel room…
The Loneliest Cottage by Melissa Storm
Romance, 4.7 stars, 346 reviews
Lauren Dalton's world shattered the day her father died. It shattered again when she found a box of old keepsakes commemorating a life she'd never even known he lead. Heartbroken but determined, she accepts a seasonal job in rural Alaska to look after an injured musher's dogs while searching for the truth about her father's hidden past. But her cantankerous new boss comes with dangerous secrets of his own. When a fire ravages part of the property, all will be revealed—and four-thousand miles away from the only home she's ever known, Lauren will discover just how quickly everything can change.
Wrenched by Emma James
Thriller, 4.5 stars, 99 reviews
Stolen—I was a whisper.
Freedom—it came with a price.
I was a secret.
I don't even know my full name.
Miss Catherine and Boxer changed my life.
I've started to trust in humanity.
That was until Edge walked into my life.
Now I'm screwed.
I've escaped one Hell's bastard only to be wrenched back towards another.
Nepenthe Rising by John Triptych
Science Fiction, 4.4 stars, 30 reviews
In the far future, two major factions are locked in a galactic cold war. As tensions mount between the technocratic Union and the genome-harnessing Concordance, both sides anxiously watch for a chance to conquer the other. The Nepenthe is a pirate vessel, loyal to neither. Led by the enigmatic Captain Dangard, her rough and ready crew includes the cat-like alien Commander Creull, Zeno the immortal synthetic, the dashing Garrett Strand, and Duncan Hauk, a promising young recruit…
Visiting Lilly by Toni Allen
Mystery/Suspense, 4.4 stars, 52 reviews
Why should a man at a Surrey police station go ballistic because someone tries to visit Lilly, his elderly grandmother? Detective Inspector Jake Talbot is intrigued, and this little puzzle might serve to distract him from sorrows of a Christmas past. Soon he is entangled with Frankie, an odd young man who claims to have met Lilly in her youth. Talbot dismisses the notion of time travel, but then discovers the Ministry of Defence has been monitoring Frankie since his friend disappeared ten years previously. Forced to work with the MOD, Talbot unearths family secrets and betrayals. The families act ruthlessly to prevent him from discovering the facts, colluding to ruin him.