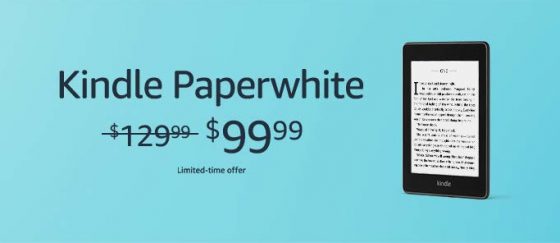 Usually Amazon has deep discounts on Kindle e-readers and Fire tablets during the month of July for Prime Day, and while that hasn't happened this year, Amazon is still running sales on Kindles and Fire tablets.
Right now Amazon has the entry-level Kindle marked down to $69.99 ($20 off) and the Kindle Paperwhite is $99.99 ($30 off). The 32GB Kindle Paperwhite is $124.99 ($35 off).
Unfortunately they rarely put the Kindle Oasis on sale and this time is no exception, but if you really want to get a Kindle Oasis at a discount you can either get a refurbished unit or you can trade-in an old Kindle and get 20% off. The trade-in deal applies to the models on sale as well.
Amazon has all of their Fire tablets on sale too. The best of the bunch is the 10-inch model, the Fire HD 10, which is marked down to $99.99 from $150. That's as good as last year's Prime Day deal.
The new Fire HD 8 is marked down to $59.99, and if you want to torture yourself with the painfully slow 7-inch Fire tablet it's available for $34.99.