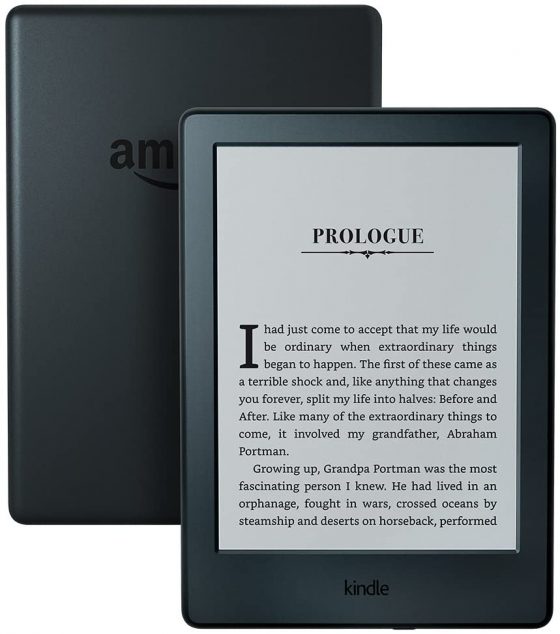 Here's a list of 10 free highly-rated Kindle ebooks for the weekend.
Update: On Sunday Amazon put the Kindle lineup on sale (links below), and they also have a list of science fiction and fantasy ebooks on sale for one of their main Deals of the Day, but only for Sunday the 16th.
Plus Woot has the 8th generation entry-level Kindle available for only $35 refurbished, but you have to use Woot's app to get the deal. It's the older model without a frontlight.
Please note the free Kindle books listed below are free as of August 15th, 2020. Most of these titles are free for a limited time only and will expire in the next few days or hours before going back to the regular list price.
A good place to find more free Kindle books is on the free bestsellers list at Amazon.
You don't need to own a Kindle ebook reader or a Fire tablet to read these free ebooks; you can use free Kindle reading apps for iPad, iPhone, and Android devices, or use a computer or web browser.
Subscribe to The eBook Reader Blog to keep updated on future free ebooks posts, along with ebook reader news, reviews and how to guides.
Kindle Deals
Kindle – $69 ($20 off)
Kids Kindle – $89 ($20 off)
Kindle Paperwhite 8GB – $99 ($30 off)
Kindle Paperwhite 32GB – $124 ($35 off)
Kindle – $34.99 refurbished, requires using the Woot app to purchase, 8/15 only
Kindle Paperwhite 3 – $79 refurbished
Fire HD 10 Tablet – $99 ($50 off)
Fire HD 8 Tablet – $59 ($30 off)
20-40% off Kindle Unlimited Membership
Get 2 months of Kindle Unlimited for Free – New and returning subscribers
Get 20% off New Kindle with Trade-in
Amazon First Reads – Free Monthly eBook for Prime Members
10 Free Kindle eBooks
Steeped in Suspicion by Eryn Scott
Mystery, 4.4 stars, 73 reviews
Pebble Cove is not the sleepy coastal town Rosemary remembers from her childhood. Ghosts are everywhere, and only she can see them. When Rosemary Woodmere inherits her estranged grandmother's Victorian teahouse, she doesn't expect to also inherit a ghost named Asher from the 1920s. Things get weirder for Rosemary. Her grandma was supposedly murdered. A body washes up on the beach, and the police suspect her of the man's murder…
Love Everlasting by Tracey Alvarez
Romance, 4.7 stars, 49 reviews
Darby Livingston is a survivor. If she can survive breast cancer, she can survive the humiliation of accidently flashing her pink panties to a stranger. A sexy doesn't believe in fairy tales stranger called Reid. Reid is the key to making Darby's amateur theater production of Cinderella a success, so she'll swallow her pride and beg, bribe, or use her feminine wiles to secure his help, because the play's donation to a cancer charity means everything to her…
Next Door by Blake Pierce
Thriller/Suspense, 4.3 stars, 1096 reviews
FBI Evidence Response Team intern Chloe Fine, 27, finds herself forced to confront her own dark past when her troubled twin sister needs her help—and when a body turns up dead in her small, suburban town. Chloe feels life is finally perfect as she moves back into her home town, and into a new house with her fiancé. Her career with the FBI looks promising, and her wedding is on the horizon…
War Girl Ursula by Marion Kummerow
Historical Fiction, 4.5 stars, 188 reviews
In Berlin, 1943, compassion is a crime. Newlywed Ursula Hermann is a simple woman, wanting nothing more than an end to the war and the return of her husband from the Russian front. But some things are not meant to be. The authorities determine that Ursula's contribution to the war effort is to guard a prison for undesirables and political prisoners. Then, the unthinkable happens. A prisoner, Royal Air Force pilot Tom Westlake escapes, and Ursula looks the other way. If her single act of mercy is discovered, her life is forfeit…
Lightwave: Clocker by AM Scott
Science Fiction, 4.4 stars, 47 reviews
Saree's got a secret. A truly unique talent. Trillions rely on her rare gift. If they knew, they'd betray her in a heartbeat for the huge reward. Despite Saree's best efforts, rumors fly. Desperate, she jumps on Lightwave Fold Transport just ahead of a bounty hunter. But Lightwave might not be safer. Lightwave's crew were mercenaries. Mercenaries who destroyed her childhood home. Saree barely escaped last time. Will they recognize her? Worse, will they discover who she really is?
Lucky Bet by Anna Reader
Historical Romance, 4.6 stars, 188 reviews
Lady Elizabeth Randolph had always been a rebellious young woman, but when her scheming guardian threatens to marry her off to a grotesque stranger, she finds her gumption truly tested. Escaping to London disguised as a young man, Elizabeth discovers a new world of gambling, duels, cruelty and love. Railing against the limitations of her gender and with her best friend, William, by her side, Elizabeth sets out to win her freedom.
Obsolete Theorem by Stan C. Smith
Science Fiction, 4.6 stars, 83 reviews
A Neanderthal's 47,000-year-old remains are found in Spain. That's not unusual, but positioned beside the woman's skeleton is something that shouldn't be there—a robotic drone. Lincoln Woodhouse has some explaining to do. When confronted with the evidence, Lincoln cannot deny that the drone is one of his own models. After all, he routinely jumps his drones into the past to collect environmental data. The problem is, this drone shouldn't even exist in Lincoln's universe. Everyone knows sending a drone into the past creates an alternate timeline…
Getaway Girl by Tessa Bailey
Romance, 4.7 stars, 338 reviews
This unlikely getaway driver never expected to help the mayor escape… After a six-year absence, Addison Potts is back in Charleston to stir things up. And what better place to make her villainous return than her estranged cousin's wedding? Only, the nuptials hit a snag when the bride doesn't show, leaving Addison to play getaway driver for the jilted groom. A groom whose heartbreaking smile and deep, southern drawl she should not be noticing…
Bark Once For Murder by Susie Gayle
Mystery, 4.4 stars, 67 reviews
Handsome and kind-hearted Will Sullivan owns a pet shop in an idyllic seaside town. Business is good, and he's dating again for the first time since his divorce, but in the course of a single day, Will's whole life turns upside-down. A corporate giant threatens to destroy his business, his ex-wife decides to move back to town, and worst of all, he discovers a dead body. When Will's girlfriend is arrested as a suspect, it's up to Will, with the help of an adorably enthusiastic shelter dog, to uncover the identity of the killer, in a town where just about anyone could be a suspect.
Dead and Gone To Bell by Jeremy Waldron
Mystery Thriller, 4.4 stars, 696 reviews
Investigative reporter, Samantha Bell, knows the end is near. But when young women are suddenly being targeted by a mysterious serial killer who leaves little clues behind, Samantha pushes her way into the biggest murder investigation of her life. Four crime-solving women set out on an exhilarating adventure to stop a serial killer before tragedy strikes again. On a mission to tell the story to save her career, nothing is as it seems. Met by terrifying roadblocks, Samantha needs a win…