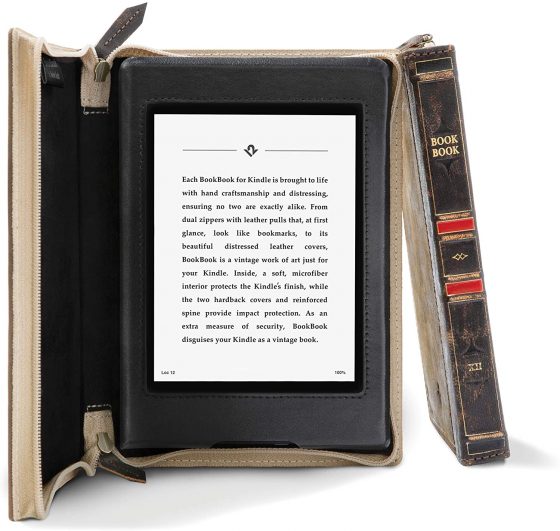 A company called Twelve South recently released a new BookBook case for the latest Kindle Paperwhite model.
The BookBook case has a unique design that makes it look like a vintage hardcover book. The case is made from hand-distressed genuine leather and the interior has a microfiber layer.
It has the usual automatic sleep/wake feature when opening and closing the cover, and it also has a built-in stand that folds out for hands-free reading.
These BookBook style covers are popular with Apple products, including iPhones, MacBooks and iPads. This is the first Kindle cover the Twelve South company has made.
It's a nice-looking cover that provides a good amount of impact protection with the hard covers and rigid spine, and it could possibly prevent Kindle thieves from stealing your Kindle if they just think it's a regular book, but obviously the main downside is it's a lot bulkier than a typical Kindle case.
The BookBook cover is available for the current 10th generation Kindle Paperwhite model only—the case will not fit other Kindles. It sells for $49.99 with free shipping from Amazon.
BookBook Kindle Paperwhite Case
Video: BookBook for Kindle Paperwhite