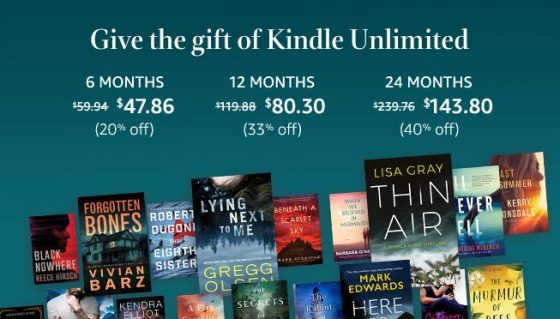 It's time for another bi-monthly roundup of 10 free highly-rated Kindle ebooks, along with some Kindle-related deals.
Amazon has some Kindle books on sale for one of their Deals of the Day, and Woot has a couple of deals on refurbished Kindles, including the Kindle Oasis 2 for $129.
Please note the free Kindle books listed below are free as of August 30th, 2020. Most of these titles are free for a limited time only and will expire in the next few days or hours before going back to the regular list price.
A good place to find more free Kindle books is on the free bestsellers list at Amazon.
You don't need to own a Kindle ebook reader or a Fire tablet to read these free ebooks; you can use free Kindle reading apps for iPad, iPhone, and Android devices, or use a computer or web browser.
Subscribe to The eBook Reader Blog to keep updated on future free ebooks posts, along with ebook reader news, reviews and how to guides.
Kindle Deals
Kindle Oasis 2 – $129 refurbished – 8/30 only
Kindle Paperwhite 3 – $59 refurbished – 8/30 only
Exclusive Kindle eBooks $4.99 or less – 8/30 only
Kindle – $59 refurbished
32GB Kindle Oasis 3 – $239 refurbished
20-40% off Kindle Unlimited Membership
Get 2 months of Kindle Unlimited for Free – New and returning subscribers
Get 20% off New Kindle with Trade-in
Amazon First Reads – Free Monthly eBook for Prime Members
10 Free Kindle eBooks
Frank 'n' Stan's bucket list by J C Williams
Humor, 4.5 stars, 276 reviews
Frank's had better days… The doctor gave him the news he didn't want and Frank's discovered the worst kept secret in Liverpool; that his wife's fitness instructor is providing her services that extend beyond the gym. With time a dwindling commodity, Frank decides it's time to do something he wants to do. With a little encouragement from his oldest friend, Stan, the first destination for his 'bucket-list' is the Isle of Man TT Races. They were content to just spectate, but fate had other ideas.
Cold Solar (The Inner Solar War Book 1) by Anthony Robinson
Science Fiction, 4.3 stars, 49 reviews
A private corporation lands on Mars before NASA in the 2020's. The secrets they learn from the Martian rock revolutionize energy and genetics for those exposed to an ancient artifact of unknown origin. On Earth, mismanagement of the world economy led to a global collapse. The corporation, rich from its exploits on Mars, buys out the debt of the world governments and takes total control of the globe. Corporate greed drives Earth to treat her own Martian colonies as slaves for personal gain. These colonies throw off the corporate oppression in a violent revolution…
Imprisoned Gods by G. Bailey
Fantasy/Romance, 4.4 stars, 55 reviews
Gods can't escape their fate…but they can try to run. My name is Karma and I'm a goddess. But not a very good one according to, well, everyone. Between accidental mishaps on the job, the talking family goat, and a necklace full of dangerous charms…trouble was always going to find me. But I never expected to be locked away in the gods' correction prison for accidentally killing a higher god. Which is literally the only rule gods have. Between the sexy justice god twins who want me locked away and a storm god who holds too many secrets in his dark eyes, prison isn't all that bad…
The Dentist (The DS Cross mysteries Book 1) by Tim Sullivan
Mystery/Thriller, 4.3 stars, 211 reviews
An outsider himself, DS George Cross is drawn to this case. The discovery of the dead man's connection to an old cold case then pulls Cross in further. Convinced this is where the answer to the murder lies, he sets about solving another that someone has spent the past fifteen years thinking they've got away with. Cross' relentless obsession with logic, detail and patterns is what makes him so irritatingly brilliant. It doesn't exactly make him popular with colleagues or his superiors, though. He has numerous enemies in the force wanting to see him fail…
Fat Vampire: (A Comedy Horror Series) by Johnny B. Truant
Horror/Comedy, 4.4 stars, 993 reviews
When overweight treadmill salesman Reginald Baskin finally meets a co-worker who doesn't make fun of him, it's his own bad luck that tech guy Maurice turns out to be a two thousand-year-old vampire. And when Maurice turns Reginald to save his life, it's just Reginald's further bad luck that he wakes to discover he's become the slowest, weakest, most out-of-shape vampire ever created … doomed to "heal" to his corpulent self for all of eternity…
Reaper's Rise (Ruthless Kings MC Book 1) by K.L. Savage
Action/Romance, 4.5 stars, 148 reviews
Nothing can end before it begins. My beginning started with the death of my best friend. And the kid he left behind… I had no idea what to do. But I made a promise. Jenkins was my responsibility. But he wasn't the only one I had. Raising a kid while being the President of the Ruthless Kings MC? The club had as much influence over him as I did. But somehow we made him a man his father would be proud of. Then his sister showed up… Covered in bruises. Fighting for her life. Her attacker is going to learn a lesson he will never forget.
Snapped (An Agent Jade Monroe FBI Thriller Book 1) by C.M. Sutter
Thriller, 4.3 stars, 2613 reviews
Murder happens in Houston, but when the most recent murders take on disturbing similarities, local law enforcement officers fear a serial killer is roaming their streets. Former sheriff's department sergeant Jade Monroe has just graduated from the FBI's serial crimes unit in homicide and is called to Houston with her partner, J.T. Harper, to take on her first assignment—apprehending the person responsible for these gruesome crimes. With victims piling up and the clock ticking, Jade and J.T. need to intensify their search because there's no sign the killer is slowing down…
Ice Breakers: A Mika Chalmers Hockey Mystery by Heather C. Myers
Mystery, 4.5 stars, 39 reviews
The last person private investigator Mika Chalmers expects to walk in her office is ex-boyfriend and NHL player, Eric Foresburg. He looks just like he did three years ago, tall, blond, and every inch a Viking. This isn't a social call. Eric has gotten himself into some hot water. A woman is going to publicly accuse Eric of rape and he needs Mika to prove his innocence. With pressure from her father – who happens to be the head coach of Eric's NHL team – and smarmy defense attorney, Ryan King, Mika has her work cut out for her. When feelings for Eric – feelings she buried a long time ago – start to resurface, her job of finding the truth no matter what gets increasingly difficult to do…
Inbound: Impact Book 1 by E.E. Isherwood, Mike Kraus
Science Fiction, 4.5 stars, 75 reviews
A radical new mission. A devastating disaster. Survival is no longer guaranteed. The Tikkanen Kinetic Mining corporation has perfected the science of asteroid mining – or so they say. When they bring an asteroid in from the asteroid belt and try to put it into orbit around the Earth, though, it turns out things aren't as perfect as they'd like us to believe. The 1600-meter rock gets loose and plummets down, bringing death and chaos across the entire continental United States. Along with this chaos comes opportunity, though, for those who know where to find it…
Who Killed the Ghost in the Library by Teresa Watson
Mystery, 4.4 stars, 90 reviews
Cam Shaw is an out-of-work ghost writer who places an ad in the newspaper looking for a new client. When she gets a reply and meets the client, she gets more than she bargained for. She's thrown into a 60-year-old mystery, but somebody doesn't want the truth to come out, and they are willing to go to any lengths to keep that from happening…even if it means killing Cam.