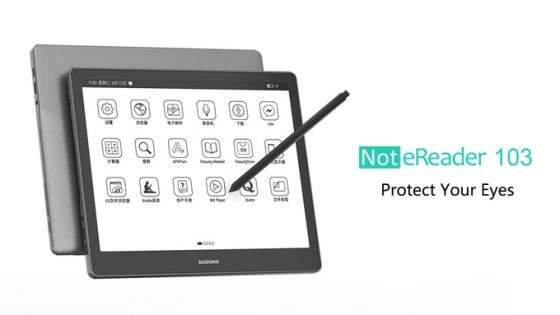 Dasung is planning to release another Not-eReader device (which ironically is an ereader), this time with a 10.3-inch E Ink screen.
It looks cool and the specs are impressive on paper, and like other Dasung products it doubles as an E Ink monitor, but the price is pretty ridiculous, and Dasung is making claims that aren't backed by science.
The Not-eReader 103 just showed up on Kickstarter, a crowd-funding website, with orders expected to ship in November 2020.
Dasung is asking a whopping $768 plus shipping for the version without a Wacom touchscreen and $838 plus shipping for the stylus-equipped model.
The Not-eReader 103 has a 10.3-inch E Ink screen with a dual-colored frontlight and an optional Wacom touchscreen. It has a Snapdragon 660 processor, 4GB of RAM, 64GB of storage space, plus a memory card slot. It supports dual band Wi-Fi, Bluetooth 5.0, and it has a massive 6400mAh battery. It runs Android 9.0 and is open to install apps, but it doesn't support Google Play.
To put the price in perspective, the device is very similar to the Onyx Note2, which most people consider expensive at $549 (it's currently on sale for $519), and Onyx has better software and they have a history of making decent ereaders for several years.
This is the second crowd-funding campaign that Dasung has run for their Not-eReader devices. Their first 7.8-inch Not-eReader was available via Indiegogo in 2018.
Their main selling point for the Not-eReader 103 is it's safer for your eyes than LCD screens. They're going with the fear-based approach to sell products, one that's not even backed by science. Here's a direct quote from the very first paragraph on the product page:
"The strong light stimulation, blue light, and strobing of the traditional LCD light-emitting screens can easily make our eyes fatigued even causing lesions that lead to irreversible damage."
That is a totally bogus claim. There is no scientific evidence that LCD screens cause any kind of permanent eye damage (don't take it from me, just ask your eye doctor).
Before you consider dropping over $800 on this device (seriously, how do they have any backers?) you might want to read through the comments at Indiegogo for their 7.8-inch Not-eReader. It sounds like there are numerous ongoing software problems and there are multiple complaints by people saying they never received a device after paying, and some have been waiting over a year. That's probably why Dasung chose to use a different crowd-funding website this time around…
Dasung Not-eReader 103