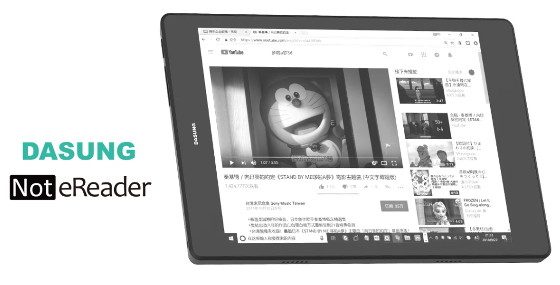 A first look at a new product from Dasung turned up on YouTube today.
Dasung has been making E Ink monitors for the past few years with their Paperlike line. Now it looks like they're going to release an E Ink tablet of sorts soon.
The device sports an unusual name, the Dasung Not-eReader.
The video description says the Not-eReader is the world's first E Ink mobile-phone monitor and PC monitor, whatever that means.
There's a coming soon page for the "Not-eReader" at Indiegogo.
The page reveals a few more interesting details. It says the device has a 7.8-inch E Ink screen with 300 ppi, and it has a cold and warm frontlight.
The Not-eReader runs open Android 6.0, with a quad-core CPU and 2GB+64GB (presumably RAM and storage space).
It appears that Dasung is marketing it as a 5-in-1 device. It can be used as an ereader (despite the name suggesting the contrary), a tablet, a video player, a PC monitor, and a mobile phone monitor.
The YouTube video below only shows the device being used as a video player.
Call me crazy, but I just don't understand why anybody would want to watch videos on a black and white E Ink screen. Why wouldn't they at least use color E Ink? The colors are flat and washed out but it's still better than monochrome for watching videos.
DASUNG "Not-eReader"